When you're in Cairns there are a million other things to think about before your stomach. But, the good great news is, if you consider yourself a bit of a foodie, you won't have to hunt too far, with some of the best Cairns restaurants and cafes taking pride of place in the CBD. Here are 10 of the best to check out next time you're in Tropical North Queensland.
For the best brunch - Caffeind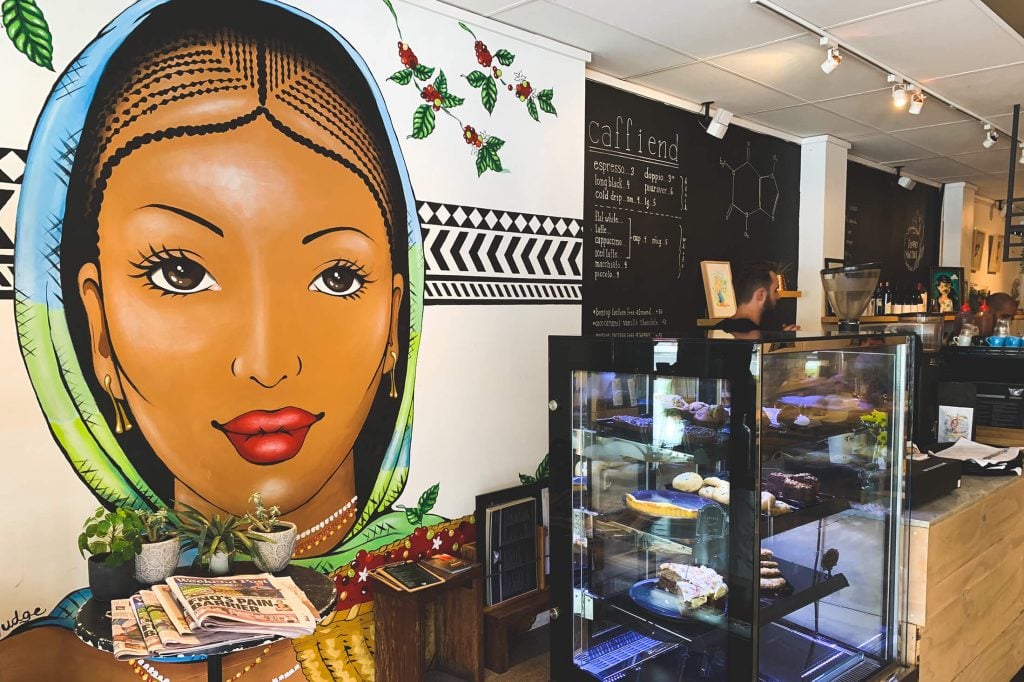 Order a cold drip and if you've got a sweet tooth, don't go past the house-made banana and walnut bread served with flame-grilled banana, coconut gelato and coconut caramel sauce.
Open Monday to Saturday 7:30am-3pm, Sunday 8am-2pm.
For the best ramen - Ganbaranba
When there's a line snaking up the street nightly, you know you're in for a good feed. And when the ramen is fresh, delicious, cheap and comes with endless complimentary iced tea, you know you'll just have to come back again tomorrow night.
Eat as the locals do at Ganbaranba and if you slurp through your noodles and have a hankering for more you can top up your bowl for $1.50. Genius.
Open daily 11:30am-9pm.
For the best steak - Waterbar & Grill
The secret to Waterbar & Grill's melt-in-your-mouth steaks? Aged organic beef from the Atherton Tableland's Morganbury Meat Company, keeping food miles low and flavours high.
Meat is the obvious choice here, whether you're tucking into a mother of a 500g rump, a rack of ribs or the Espetada dripping with red wine and chilli sauce. (Don't worry, there are plenty of vego options, too!)
Open daily for lunch from 11:30am and dinner from 5.30pm till late.
For the best Thai - Tamarind
With a coveted chef's hat awarded by the Good Food Guide, Tamarind is the place to go if you're looking to impress. Offering nightly degustations – with or without matching wines – you can let the chefs make all the hard decisions for you and just concentrate on savouring dishes like Penang duck curry and beef tataki with coconut foam, masaman gel and rendang oil.
Ordering a la carte? You can't go past the whole crispy baby barramundi on this modern Asian fusion menu. And with dessert options like cassava pudding and macadamia baklava, you know you're smack bang in the tropics.
Open nightly 6pm-10pm.
For the best views - Salt House
No doubt about it, Salt House offers one of the best seats in town. Open for breakfast, lunch and dinner, this is the go-to for locals and a damn fine spot to call in for a meal any day of the week.
With a set lunch menu on offer at $28 per person and high tea available (bookings essential), you'll probably find yourself back here more than once during your stay.
Open Monday to Thursday 12pm-12am, Friday and Saturday 7am-2am, Sunday 7am-12am.
For Indigenous flavours - Ochre
Where else but in Cairns could you expect to nosh on emu carpaccio, salt and native pepper leaf crocodile, char-grilled kangaroo sirloin with a quandong chilli glaze, wallaby topside, and wattle seed pavlova?
Fusing Indigenous bush food ingredients with the produce of TNQ, Ochre is one dining experience you'll want to book for.
Open for lunch Monday to Friday 12pm-3pm and dinner seven nights from 5:30pm till late.
For the Caveman - Pantry 15
Dairy, grains, sugars and preservatives are off limits at the original incarnation of popular Grafton Street cafe, Pantry 15. Fuel up with an acai bowl, feast with a brisket toasted sanga, or go for broke with the whole pantry big breakfast.
Open Monday to Friday 7am-3pm, Saturday to Sunday 7am-2pm.
For a leisurely lunch - Perotta's at the Gallery
When you're feeling the heat in Cairns CBD, take refuge on the deck at Perotta's and tuck into fresh paw paw, strawberry and lime salad with buffalo labne, organic honey and sugared pistachio for breakfast, a zesty chilli salt squid salad popping with pomegranate and spiced popcorn for lunch, or Italian-style pulled pork tacos with pickled watermelon. Yep, we're drooling too.
Open daily 6:30am-10pm.