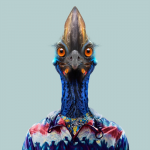 Hit the famous waterfall circuit, uncover those less known or stretch a little further and take a dip in Australia's widest, single-drop waterfall on the Atherton Tablelands.
With its diverse wilderness and abundant national parks, Tropical North Queensland is home to many beautiful hikes, waterfalls and swimming holes. It's important to always follow the advice from
Queensland Parks
and never venture into out of bounds areas, flooded waters or dangerous areas to prevent serious injury or death.
Malanda Falls
Malanda falls is located next to the Malanda Visitor Centre. It's surrounded by lush, green rainforest and is conveniently located a very short distance from the carpark, making it great for people with little legs that tire quickly. Grab a bite to eat after you swim at nearby Tree Kangaroo Café, which is open daily from 9:00am-4:30pm. If you're up for a bit of light adventure, there are walking trails that lead from the falls, keep your eyes open for the elusive Lumholtz's tree-kangaroos!
Millaa Millaa Falls
Millaa Millaa Falls is an incredibly photogenic, 18-metre waterfall and definitely an Atherton Tableland favourite on the famous Waterfall Circuit. Relax and have a picnic on the grassy area in front of the falls between dips and keep your eyes peeled for a glimpse of the elusive platypus. It might be the most frequented waterfall on the Tablelands but it's also the most majestic so definitely worth the stop.
Zillie Falls
Only 7.5km from Millaa Millaa Falls you'll find its louder, more daring sibling, the remarkable – Zillie Falls. A magical, misty scene created by the roaring water hitting the surrounding rocks is too awesome to miss. At the bottom of the falls, you'll find rock pools made for wallowing in.
Ellinjaa Falls
Ellinjaa Falls is a further 3km along the circuit from Zillie Falls. If you're hungry from all the adventuring, stop in and use the BBQ's and picnic tables provided. The pool at the base of Ellinjaa Falls isn't very deep so not a great swimming spot but we'll let you in on a little secret – if you're game there's a hidden spot behind the waterfall where you can sit and take in its beauty.
Dinner Falls
Positioned in the Mount Hypipamee National Park and on the same circuit as the eerily beautiful Mount Hypipamee Crater, Dinner Falls is a series of cascades from the headwaters of the Barron River. Picnic tables are provided in the circuit and it's a wonderful place if you're after more than one discovery in your day.
Millstream Falls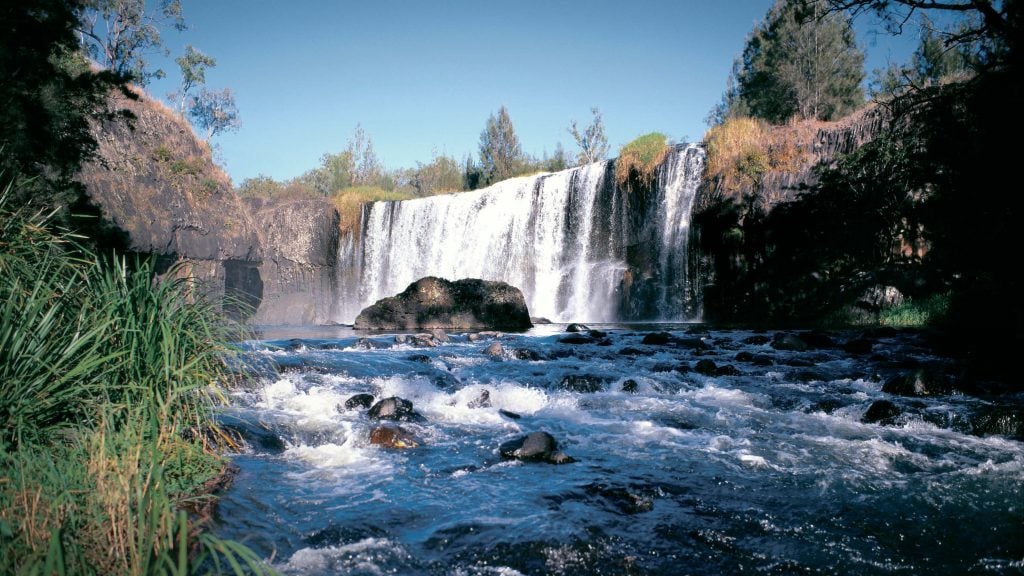 Just past Queensland's highest town (with Queensland's highest pub) Millstream falls is arguably, the widest single-drop waterfall in Australia. Most people stop here at the beginning or end of their journey along the Savannah Way, an area rich with volcanic caves, cavernous gorges and gemstones waiting to be discovered. Interestingly, the Millstream area is said to have been used as a campground for soldiers during World War II and relics are often discovered in and around the falls, happy hunting.
Mungalli Falls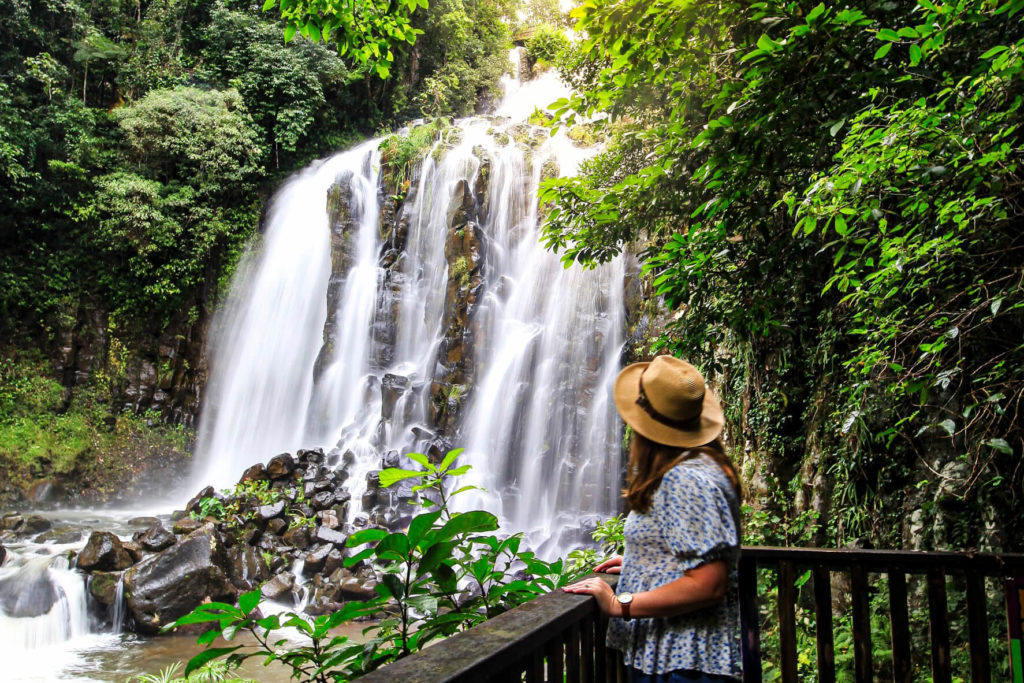 Mungalli Falls, a short 14-minute drive from Millaa Millaa Falls, is located in an area more famously known for the incredibly delicious and Bio-dynamic dairy products produced at Mungalli Creek Dairy. Well, now you can add waterfalls to the list of things to do in this pocket of farmland on the Atherton Tablelands. Positioned by the Mungalli Education Centre, you can swim in pools both above and below the falls.
Nandroya Falls
Encased in a mossy covered alcove of the Wooroonooran National Park, Nandroya Falls and its little sister, Silver Falls are worth every step of the 6km round trip from the carpark. Dropping from what looks like a crack in the rock, Nandroya Falls is perfect for cooling off in. For the best photo opp, we recommend clambering around the right-hand side of the falls, be careful though it's a little slippery! The area is also famous for being one of the few places in the Wet Tropics Rainforest that you'll find the world's largest fern, the King Fern.
Tchupala Falls
Not far from Nandroya Falls is Tchupala Falls (pronounced Chu-par-la), an awesome spot to stop for a swim on your way down the Palmerston Highway. The water cascades down into multiple streams which means one thing, no fighting for prime position with your friend.! Pick your spot under the waterfall and let the day waste away.
Wallicher Falls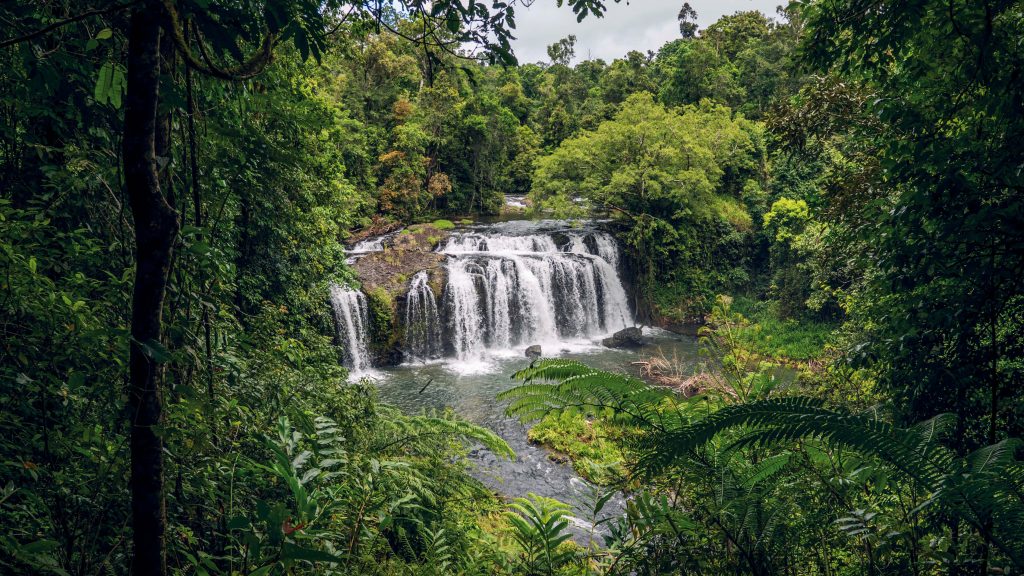 By now you're probably wondering, how many waterfalls could there possibly be on the Atherton Tablelands? To be honest, we haven't even scratched the surface but if you're visiting Tchupala Falls, you may as well stop and check out Wallicher Falls as well. With only 500m separating the two, locals say Wallicher Falls is more appealing but we'll let you be the judge of that.