Want to photo bomb the best public art in Cairns? Or capture that crazy holiday selfie that puts you in the picture? Check out this guide for an easy 'must see' photo bombing list for your snap happy, arty holiday pics.
But wait! There's actually a bonus to this arty treasure hunt. This guide of the top 10 public art pieces, installations and street art will also take you to some of this region's spectacularly scenic and fabulously free destinations. So come on, put yourself in the picture.
Hang out at the pool
OK this one's a no-brainer. The Cairns Esplanade Lagoon is a mecca for visitors and locals. This 4,800sqm saltwater swimming pool is open year round with free access for all.  Located on the waterfront, its famous fish installation created by local Torres Strait Islander artist Brian Robinson, is arguably the most photographed and recognizable landmark in Cairns.
Visit the Cairns laneways
Get fresh and funky in the Cairns laneways. What?! Cairns is not known for its laneways but there's one that combines the inspiration of Melbourne, with the talents of the tropics and makes for a great photo opp.  Hiding on Grafton Street, which is undoubtedly the boutique shopping hub for the city, this laneway has a graffiti wall and trendy café (Caffiend) to boot.
Termite mounds at Cairns Airport
In the excitement of arriving into Cairns you might miss the fabulous termite mound sculptures, located next to the Domestic Terminal building. However, make sure you keep an eye out on your way home, as these beauties are worth a look. Designed by Aboriginal artist Thanakupi and made of cast aluminium with black paint fill, their story is explained on a plaque on site.
Visit the Turtles
The Great Barrier Reef is home to six of the world's seven marine turtle species. These ancient mariners of the sea capture the hearts and minds of visitors from around the world and are beautifully replicated in a stunning statue on the Cairns Esplanade, right by the Cruise Liner Terminal. Top tip, there's a great café there too (Wharf ONE) serving local produce.
Cuddle a jelly baby - yes you can
Quirky Alert! For a quirky photo bomb idea, get up close and personal with one of the super colourful jelly babies. They're located outside Cairns' Centre of Contemporary Arts and KickArts building, in the city centre at 96 Abbott Street. These super cute jelly babies come in a range of rainbow inspired colours, so pick your favourite and get snap happy.
Fall in love with the stars and the moon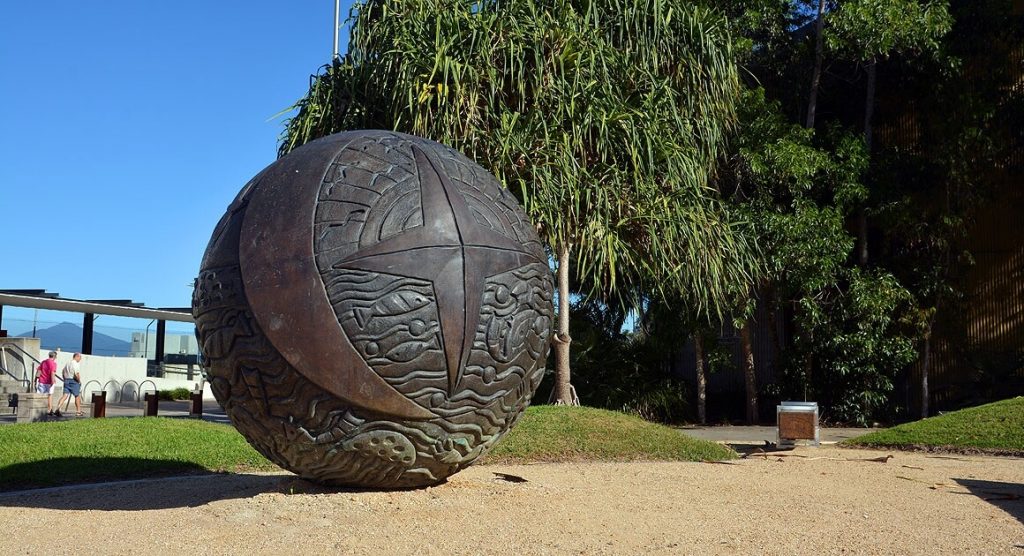 Feeling wistful? The meaning behind this haunting piece of public art is simply too beautiful. Created by world famous Aboriginal artist Thanakupi, this cast bronze installation 'shows the star and the moon as they travel across the seas, and the sun setting on the horizon for the lovers'. It's set amongst a small shaded garden adjacent to the Cruise Liner Terminal. Serenity is assured.
Take me to the sea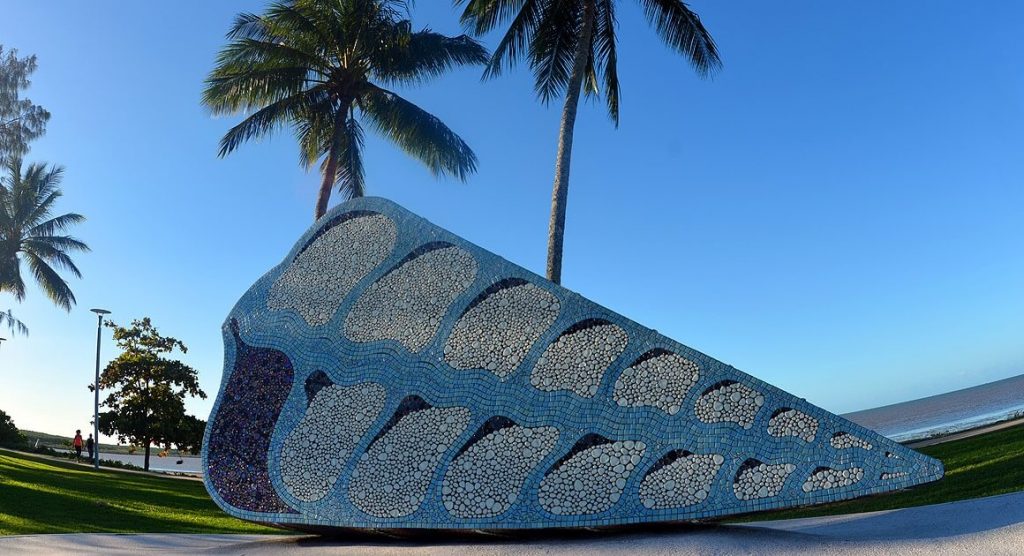 They say you can hear the sea if you put a shell to your ear. Good luck with that! This shell is a little heavy for lifting, but it's great for another arty photo opportunity. This cone shell installation is called Telescopus and was created by local artist, Dominic Johns. It's located on the Cairns Esplanade, adjacent to the Cairns Hospital. The shell is cleverly designed so that two very different photo bombs are on offer depending on which angle you take.
Rainforest creepy crawlies
The great green rainforest that wraps itself around Cairns and its surrounding hillsides is home to many different creatures, great and small. Some of these have been immortalized in bronze castings on the walkway to the mighty Barron Falls at Kuranda. Check out the bugs, beetles and ants on your way to the waterfall.
Strike a pose with the poles
When art meets function – that's what we call a photo opportunity. These are the Migration North Entrance Poles created by the same genius behind the Esplanade Lagoon Fish, Torres Strait Islander artist and all round nice bloke, Brian Robinson. They are located at the Northern (airport) end of the Cairns Esplanade and are a striking landmark, especially in the golden afternoon sun.
Tanks - where art and nature meet
Tanks Arts Centre is Cairns' premier entertainment venue and one of the best examples of urban recycling. This contemporary arts centre is located in three former WWII oil tanks, which have been transformed into an innovative exhibition and performance space, all nestled into the rainforest foothills on Collins Avenue, Edge Hill. The site is a unique combination of creativity and nature and offers boundless photo bomb opportunities.