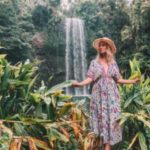 Whether you're heading to Cairns for the holiday season or you're a local looking for some festive cheer, here's what's on for Christmas in Cairns, Palm Cove and Port Douglas.
It's beginning to look a lot like Christmas in Cairns. Pretty soon, palm trees will be juxtaposed with twinkling snowflake lights, the decorations have been dusted off and the kids are counting down the days until Santa Claus arrives.
Whether you are looking for Christmas day lunch in Cairns, or are looking for whats on at New Year, pop on your Santa hat, blast Mariah and get ready to discover what's on for the 2022 festive season in Tropical North Queensland.
Christmas Lights
Cairns Esplanade Christmas Tree
Head to the iconic Esplanade through December to see a tropically decked out tree. While this year's lighting ceremony has been cancelled, you can still visit the tree any day of the month.
Scoot, skate or walk down the Cairns Esplanade on a 6km loop or ride the 16km Christmas Lights Tour to help raise funds for the Ronald McDonald House Charities.
When: 8 December
Where: Cairns Esplanade
Get behind the wheel and join HIT's FMs annual Cavalcade of Lights. Join the car convey and see the best lights Cairns has to offer.
When: 16 December from 4pm
Where: Cairns Show Grounds
Christmas Carols
Holloways Beach Christmas Carols
Bring the whole family for carols, food vans, face painting singing and santa.
When: 3 December, 5.30pm-9.30pm
Where: Holloways Beach Sporting Complex
Joy to the World community carols and fireworks
Head to Cairns Showgrounds for Christmas carols, fireworks and food.
When: 3 December, 5pm-8.30pm
Where: Cairns Showgrounds
Gordonvale Christmas Carols
Embrace the festive season and give your vocal cords a work out. Enjoy a merry go-round, stencil face painting, nativity and more.
When: 4 December, 4.30pm-7.30pm
Where: Norman Park, Gordonvale
Carols in the Park
Carols in the park is back for 2022! Grab your picnic blanket and chairs and head to Munro Martin Parklands for the "tropical sparkle" themed extravaganza.
When: 11 December, 5.30pm-8.30pm
Where: Munro Martin Parklands
Christmas Markets
Christmas Pottery Fair
Shop for unique gifts at the Cairns Potters Club's annual fair.
When: 3 December, 8am-2pm
Where: 28A Grove St, Cairns
The Pier Markets
Pick up locally-made gifts at the Pier Markets.
When: 18 December, 9am-2pm
Where: The Pier Shopping Centre
Shopping Centres
Cairns Central Shopping Centre
Head to Cairns Central from 17 November to 24 December for a meet, greet and photo with Santa.
Smithfield Shopping Centre
Santa will be available for photos until December 24. Pet Santa photos and sensitive Santa will also be available.
Mt Sheridan Plaza Shopping Centre
The interactive Santa photo experience will run from November 27 to December 24 from 9am-2pm.
Christmas Lunch at Crystalbrook Cairns
Crystalbrook Riley
Celebrate Christmas at Crystalbrook Riley and be wined and dined this festive season. The Paper Crane Christmas Day Buffet has decadent seafood, Christmas trimmings and a three hour beverage package. Plus, there's entertainment for the whole family.
Or have a cold Chrissy in the aircon at Crystalbrook Riley with locally sourced seafood, carvery, salad bar and three hour beverage package.
Crystalbrook Bailey
Settle down in CC's and feast on a three-course shared menu featuring festive faves with a sophisticated CC's twist.
Crystalbrook Flynn
Have a buon natale at Flynn's Italian this Christmas Day and gift yourself stunning views across the Coral Sea.
Boardwalk Social
Embrace the Christmas spirit the Boardwalk Social Way with a buffet featuring seafood on ice, hot Christmas classics and desserts.
Christmas Lunch in Cairns
Pullman Cairns International
There's no such thing as overindulging on Christmas Day and Pullman Cairns International has three different Christmas day dining options; a Christmas lunch and dinner in Coco's Kitchen and Bar and an adult's only seafood extravaganza in the Bluewater Rooms.
Cairns Colonial Club
Family fun is on the menu at the Cairns Colonial Club. The Christmas Day Luncheon includes 3 courses and a choice of an alcoholic and non alcoholic drink package. The kid's have their very own kids menu and tickets include access to resort facilities, including the main lagoon pool.
Dundees on the Waterfront
Head to the marina for a three course Christmas Day lunch at Dundees for $150pp including Bon Bon's.
Spirit of Cairns Dinner Cruise
Take to the Trinity Inlet for a cruisey Christmas with Spirit of Cairns. Indulge in a buffet menu and retire outside to the spacious decks for the salty air of the Trinity Inlet.
Shangri-La The Marina, Cairns
If the kids fancy a meet and greet with Mr Claus himself, head to the Shangri-La The Marina, whose Christmas buffet and 3 hour drink package comes with live roaming entertainment and gifts from Santa for children 12 and under.
Novotel Cairns
Head to Novotel in Cairns city for a bottomless seafood feast with local fresh prawns and oysters, hot and cold options, salads and desserts. Includes a 3 hour beverage package and kids under 12 enjoy a visit and gift from Santa.
Rydges Esplanade
Treat the whole family to a Christmas to remember at Rydges Esplanade with a Christmas buffet lunch with seafood and all the trimmings.
Pullman Reef Hotel Casino
Head to the Urchin's Ballroom at the Pullman Reef Hotel Casino for a buffet with all the trimming and a 2.5 hour beverage package. Kids can enjoy an activity room and kids age 12 and under will receive a gift from Santa.
Christmas Lunch in Palm Cove
Photo by Mark Kolbe for Tourism Queensland
Pullman Palm Cove
The whole family will enjoy the gourmet 3 course plated lunch on offer at Pullman Palm Cove. Adults can indulge in a 3 hour deluxe beverage package, whilst the little ones will enjoy a visit and gift from Santa.
Christmas Lunch in Port Douglas
Pullman Port Douglas
Indulge in a poolside Christmas Day lunch at Pullman Port Douglas featuring entertainment with Lady Valiant, gifts from Santa for the kids, a beverage package for adults and a sumptuous buffet for all.
See this list for more restaurants that are normally open on Christmas Day for lunch.
Christmas day on the Great Barrier Reef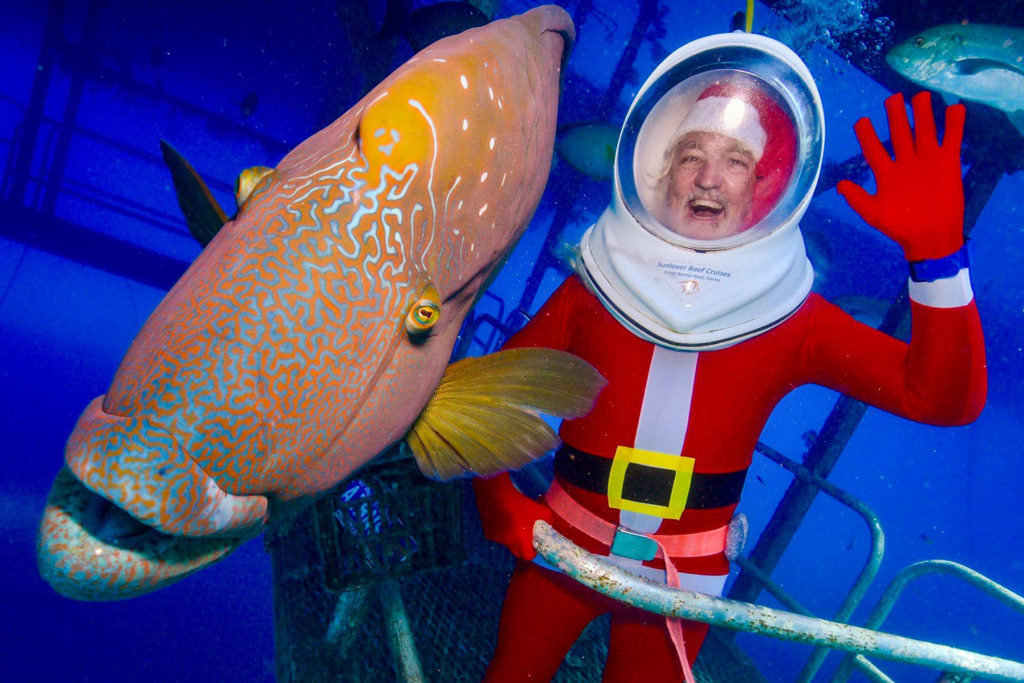 Photo by Sunlover Reef Cruises
Swap a winter wonderland for an underwater wonderland on the Great Barrier Reef and spend your Christmas Day exploring one of the seven wonders of the world.
Sunlover Reef Cruises
You won't be lonely this Christmas on a trip with Sunlover. Head out to the Outer Barrier Reef to their Moore Reef pontoon for four hours of snorkelling, a glass bottom boat tour, semi-sub tour and more. If that alone isn't enough to make you feel like a big kid at Christmas, they also have a waterslide swirling from the top of their pontoon. Sunlover also serve a sumptuous tropical buffet lunch in partnership with Master Chef Guest Judge Nick Holloway from NuNu Palm Cove. The menu showcases local flavours and includes Coral Sea prawns and sticky ginger caramel chicken.
Fitzroy Island
Have a very happy holidays and stay on an island paradise for Christmas. Fitzroy Island resort serves up Christmas with a side of sunshine, offering a Christmas buffet at Zephyr Restaurant for both lunch and dinner. The kids can enjoy a visit from Santa before jumping into the big blue and snorkelling over colourful corals right off the beach.
Gifts that give back
Looking for a unique gift for a loved one? From animal adoptions, to eco certified tours, check out these gifts that give back.
New Year's Eve
Cairns Esplanade
Say sayonara to 2022 with literal bang on Cairns Esplanade. Catch the New Year's Eve Fireworks at the family friendly time of 8.30PM and at midday to kick off the new year with an explosion of colour.