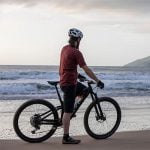 Choosing lines, bunny-hops, wheel lifts, roll-downs… these are all techniques you'll need to master to be a better rider. Here's what you need to know to conquer the Smithfield trails.
There are plenty of two-wheeled adventures in Tropical North Queensland that only ask that you know how to ride a bike – but if you plan to take on something like the iconic Smithfield Mountain Bike Park, you'll do it safer and more efficiently if you have a basic grasp of some key mountain-biking techniques. You'll also be faster and have more fun. Here are some skills to brush up on before you take on the world's most famous rainforest trail system.
Choosing lines
On a bike you go where you're looking. Sounds obvious but even an easy green-rated trail such as Greenfields has different surfaces and obstacles to grab your attention, making vision management crucial. The golden rule: don't focus on that tree, rock or other solid object or that's exactly where you'll end up. Rather, cast your eyes down the trail and look for the ideal 'line', whether that's the most direct route through a bend or the one with the least speed-sapping surface or fewest obstacles – your front wheel will naturally follow.
Weight transfer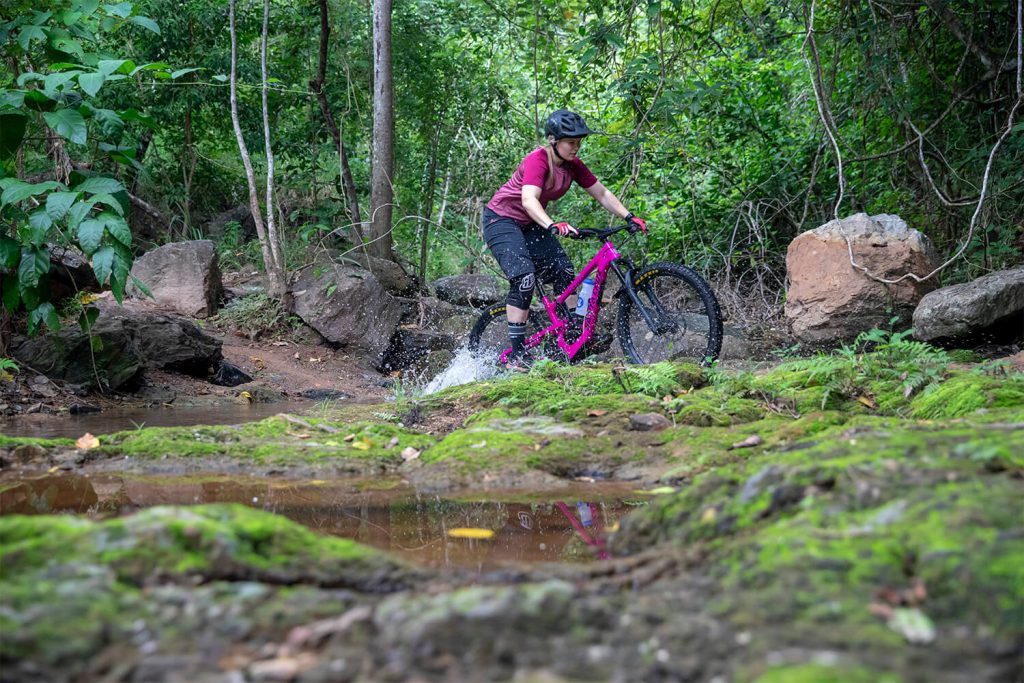 Rocks, tree roots, creek crossings and other gnarly surfaces are all part of the Smithfield trail language, and how you place your body will have a big impact on your comfort and stability. You want to shift your weight back off the front wheel as it's about to hit a bump, then shift it forward as the back wheel follows through. Standing on horizontal pedals with your legs and arms bent, in what's called the 'attack' position, will help you do this when not pedalling. Smart weight transfer is also vital for efficient climbing – a long grind like the blue-rated Centipede requires you to subtly shift your seating position to alternatively optimise back-wheel traction and stop the front wheel lifting or drifting through switchbacks.
Front-wheel lift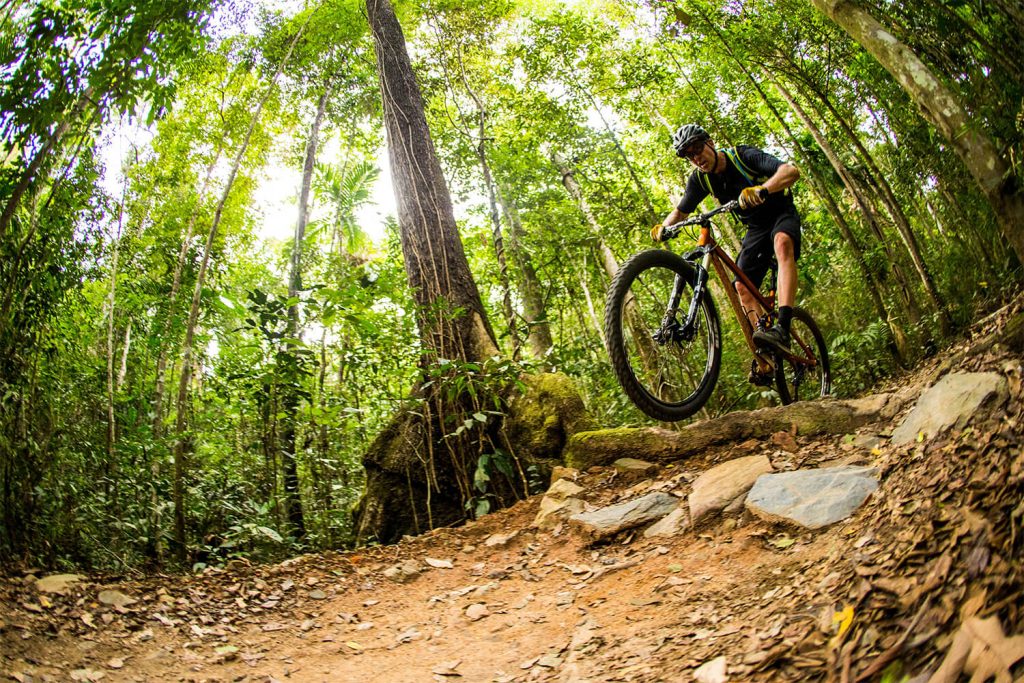 Even a green-rated trail such as Flat Snake has rocks, logs and obstacles a front wheel won't easily roll over. The best way to minimise the jolt is to get it to clear the obstacle altogether and let the back wheel just roll over or through it. Sounds simple but anticipation and finesse are required to make this work. Lift the front wheel too little and it will still be destabilised by the bump; too much and you won't be in the right position or have time to shift your weight forward to help the back wheel over the bump.
Bunny hops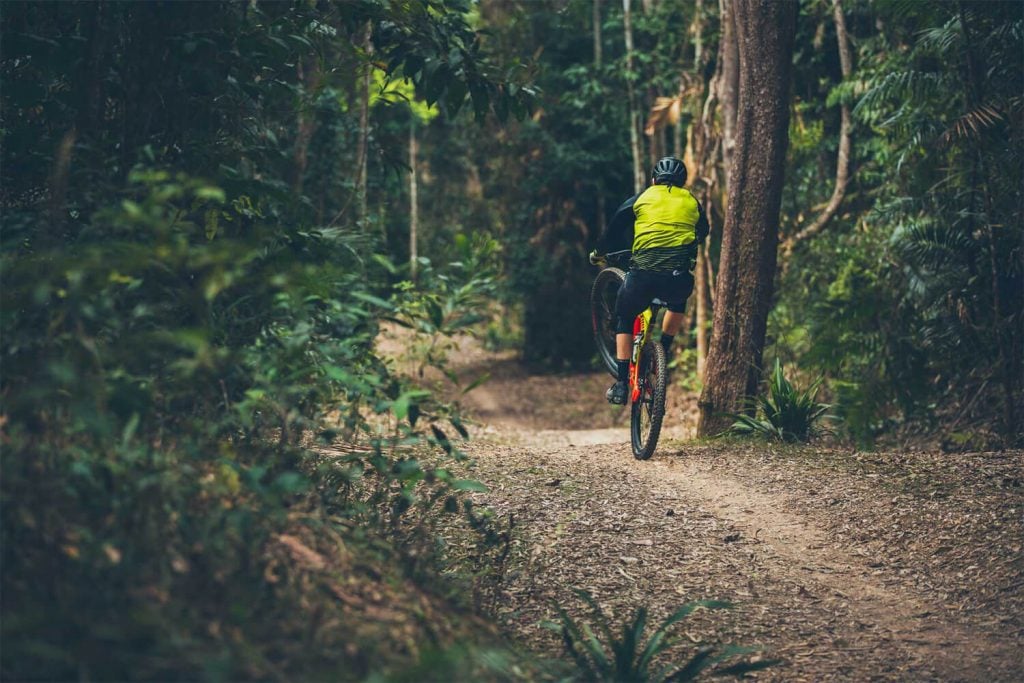 The next step for dealing with really big obstacles, such as those you'll find on the testing Black Snake, is lifting both wheels over them altogether. This involves combining a front-wheel lift with a similar 'hoik' of the back wheel – then, as the back wheel comes up, you push down on the handlebars to get the front wheel back on the ground, which naturally helps the back wheel up and over. This trick requires perfect timing and practice to get right, so perfect it on kerbs and smaller obstacles before trying it on the trail.
Roll-downs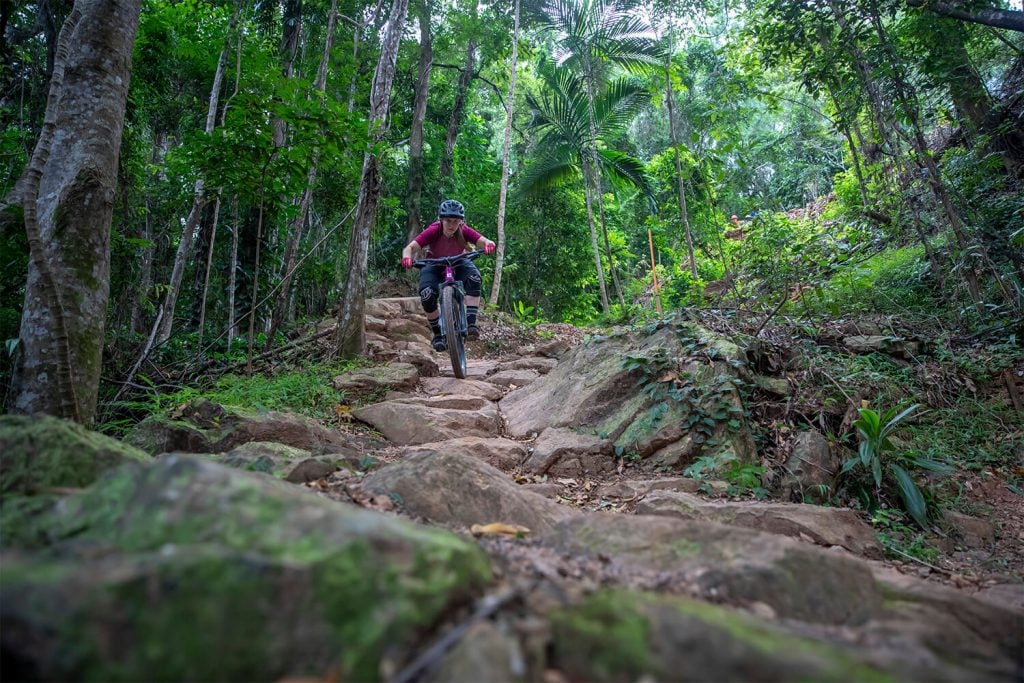 Sooner or later in Smithfield – maybe on the blue-rated Cuss Cuss or black-rated Happies – you'll encounter a big, intimidating drop-off. Tackling these requires a combination of particular skills. First, looking for and avoiding things that could snag your bike during the landing. Then getting your speed just right – too fast and the landing might jolt you off the bike; too slow and you'll lose balance and momentum. Then the trickiest bit, your body positioning – your torso needs to be forward and over the bars as you roll into the drop before you push it back as the front wheel hits the ground, then re-centre your weight over the bike as the back wheel comes down, all in one fluid movement.