With endless picturesque places on the doorstep, you're spoilt for choice as soon as you touch down in the tropics. Send your holiday posts to the top of the feed with these Instagram locations near Cairns.
Nudey Beach
Crowned "Australia's Best Beach in 2018", it would be rude not to include Nudey Beach on the list of top Instagrammable locations near Cairns. This stunning coral beach is at Fitzroy Island, located just 45 minutes from Cairns via ferry, making it an accessible and popular island escape for tourists and locals alike. After you capture that postcard-perfect picture to brag on social media, explore the other equally scenic parts of the island, including The Summit Track, rope swing on the beach and onboard the luxurious Eye Spy catamaran for a dreamy sunset sail.
Josephine Falls
If natural swimming holes are more your thing, look no further than the rainforest retreat of Josephine Falls. Located in the Wooroonooran National Park, immerse yourself in the natural beauty of World Heritage-listed rainforest as you glide down natural water slides, hang from vine swings or lounge on giant granite boulders. There are also several walking tracks in the area, including the eastern approach to Queensland's highest mountain, Mt Bartle Frere.
Behana Gorge Road, Gordonvale
Two words: Walshs Pyramid. The best part about this "Insta-worthy" photoshoot location is you won't even break a sweat capturing the highest freestanding natural pyramid in the world. Let your imagination run wild with photo ideas, from minivans and skateboards to holding hands and simply walking along the sugarcane lined Behana Gorge Road. Afterward, venture to Behana Gorge itself to cool off and grab a holiday snap diving into the refreshing crystal clear water.
Palm Cove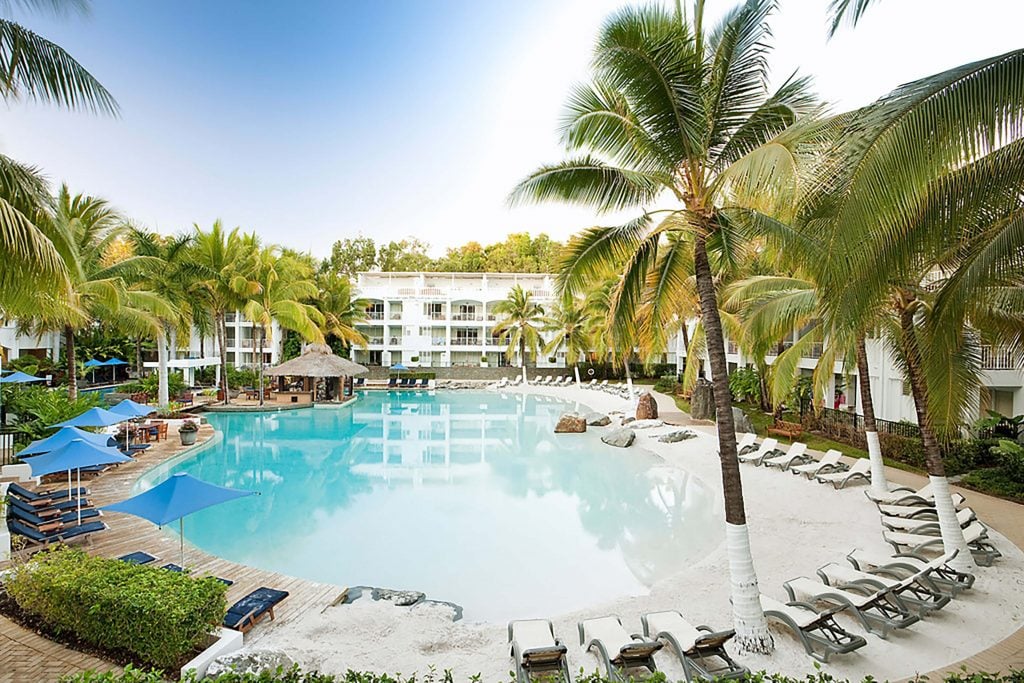 It should come as no surprise that the sleepy holiday village of Palm Cove graces this list. From standing under the swaying palms, Insta-worthy smashed avos or swimming in one of the many resort swimming pools, putting the camera down in this seaside heaven is far from easy.
Cairns Lagoon, Esplanade
On a balmy evening, the Cairns Lagoon on the bustling Esplanade is a popular watering hole for many looking to cool down in the Tropical North Queensland heat. For a great frame, angle your camera to give the illusion of an infinity-like pool over the Coral Sea. A local fun fact is the iconic Woven Fish sculptures at the Lagoon are giant interpretations of traditional Torres Strait Island Culture practices of weaving smaller fish forms with palm trees.
Babinda Boulders
If you didn't already know, Tropical North Queensland is home to a number of seriously spectacular swimming holes and waterfalls, including Babinda Boulders. Boasting beautiful swimming and picnic areas, this tropical rainforest paradise is just over an hour from Cairns near the sleepy town of Babinda. Wander along the gentle 2km rainforest walk to three lookouts where you can admire thundering water surging over giant granite boulders creating mini waterfalls. Local tip: stop in at the famous Babinda Bakery to stock up on yummy treats, savoury or sweet.
Rainforest Canopy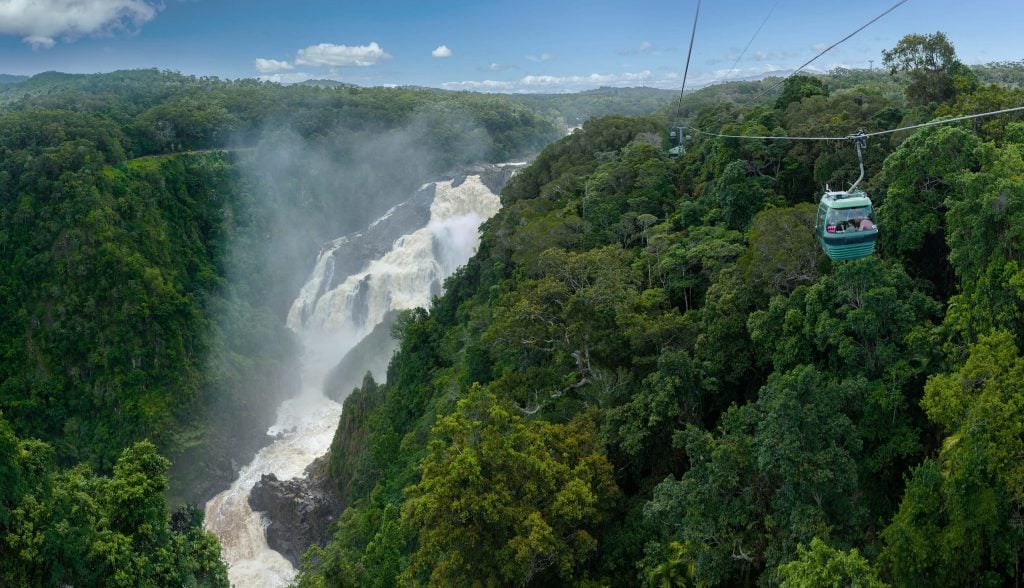 Glide above the World Heritage-listed Wet Tropics rainforest with Skyrail Rainforest Cableway, either starting your journey at Smithfield, or at the top of the range at the colourful village of Kuranda. For a little extra coin, treat yourself to the Diamond View Gondola for sweeping views through the glass floor or feel the fresh breeze between your ears on the roofless Canopy Glider. One of the best pictures along the trip is of the mighty Barron Falls. During the wet season, you'll likely hear it before you see it.
Cuddling a Koala
It doesn't matter whether you are coming from Sydney or a tiny European village, the experience of cuddling a koala in Australia is pretty special. These cute creatures are native "down under" and can only be held in three states, with Queensland being one of them. The easiest way to hold one of these furry friends is to visit Cairns ZOOM and Wildlife Dome on the rooftop of The Reef Hotel Casino. Be prepared to battle off with rock–paper–scissors if you both have the same "good side". 
Great Barrier Reef Scenic Flight
The Great Barrier Reef is undeniably special to witness, especially from above to appreciate the sheer size of the world's largest coral reef. There's also something so glamourous about a private chopper or plane ride. Turn up the swank on your holiday and take a thrilling scenic flight over the reef with Nautilus Aviation, with the option to land on Vlasoff Cay for your own private gourmet picnic.
The Great Barrier Reef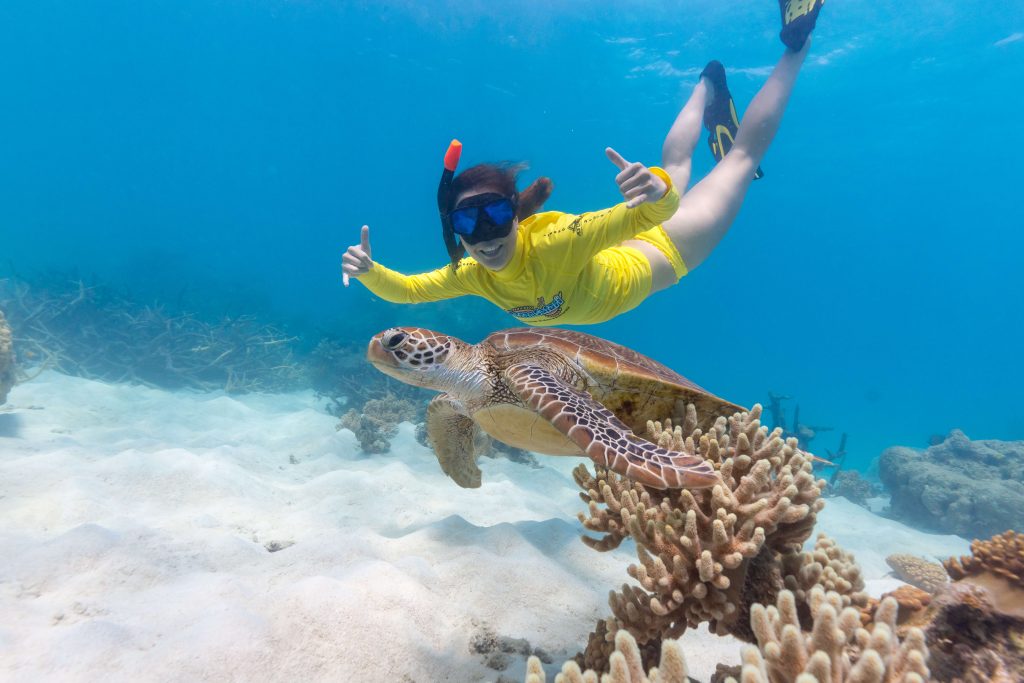 Last but certainly not least, no trip to Tropical North Queensland is complete without visiting the breathtaking Great Barrier Reef. Whilst it is incredible to see from above, the real magic happens underneath, with the underwater wonderland a sight to be reconned with. Take your underwater camera or ask the friendly team on your reef tour to capture those special moments of you swimming with marine life over the colourful coral.