Whether you're embraced in the thralls of a new holiday romance, on your honeymoon or anywhere in between, deciding on where to actually go for a date can be tough. Find some fresh and fun inspiration below:
Explore Kuranda Markets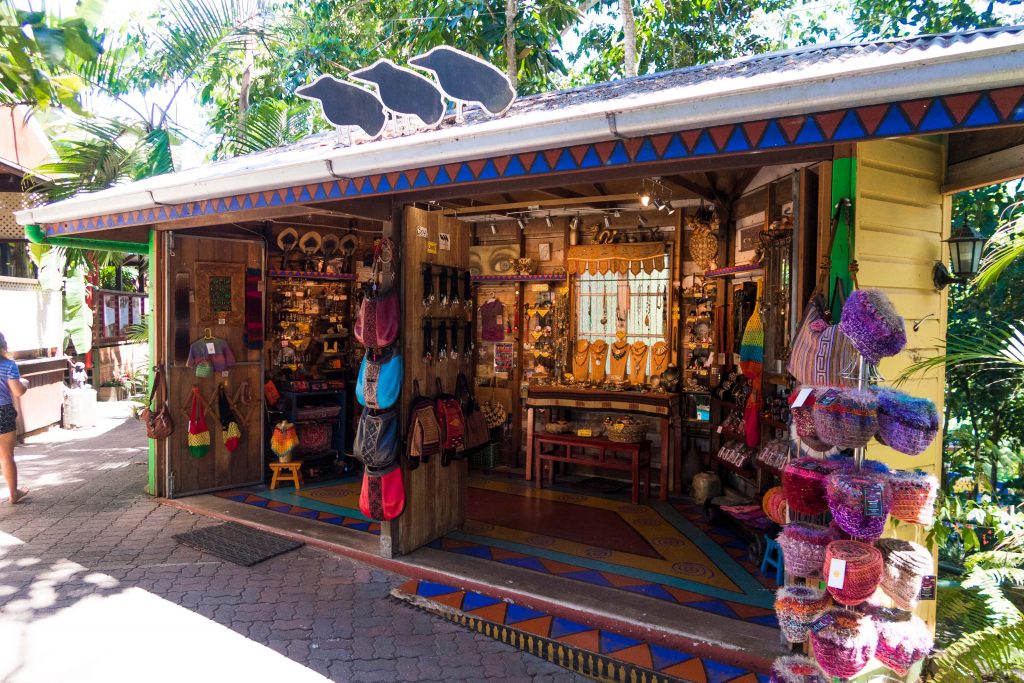 Spend the morning immersed in the colourful vibrancy of the Kuranda Markets. Enveloped in lush rainforest, the alluring array of stalls offer everything from unusual handcrafted souvenirs, local artwork, and delicious produce. Keen for a little friendly competition with your significant other? Head to the mini golf course at the Original Rainforest Markets and finish up the date with a tropical fruit ice cream – loser's shout?
Take a Foodie Tour of the Atherton Tablelands
It's been said that the way to a person's heart is through their stomach; put it to the test with a foodie tour of the Atherton Tablelands with Brett's Outback Tasting Adventures. Get acquainted over breakfast at the enchanting Lake Barrine Tea House, bond over delicious handcrafted chocolates at Gallo Dairyland, and really get into the spirit of things with liqueur tasting at Mount Uncle Distillery.
Sunset Sail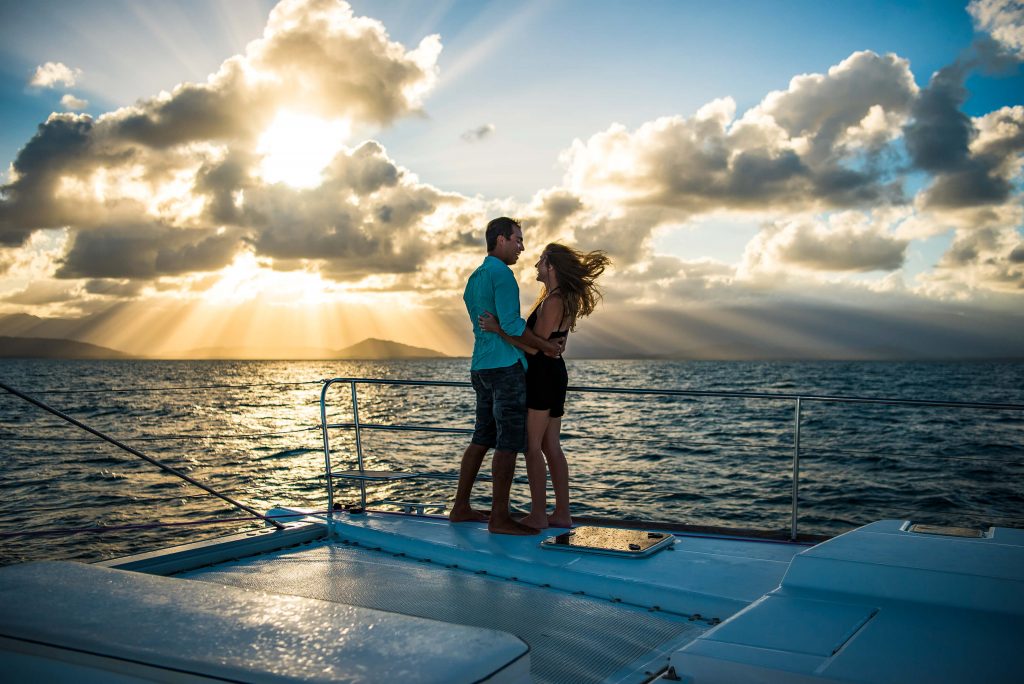 Nothing quite says romance like a luxury sunset sail with a glass of bubbles in your hand. Treat your date to a relaxing twilight cruise with Sailaway Port Douglas and soak up the peace and tranquillity of a tropical sunset with spectacular ocean and mountain views. If that doesn't set the tone for a cheeky smooch, then nothing will. If you're looking for a twilight cruise that's a bit closer to home, you can also hop aboard Spirit of Cairns for a dinner cruise, departing from the Cairns' Marlin Marina every night at 6:30.
Cairns Aquarium
Showcasing a huge variety of marine life and coral from the Great Barrier Reef and the surrounding Wet Tropics region, Cairns Aquarium is the perfect place to keep things casual while you learn more about the region's spectacular underwater species. Then, head next door to Dundees at the Aquarium and ignite your senses with a delicious dish whilst sharks swim just metres away.
Rent bikes at Mission Beach
Long, romantic strolls on the beach… smooth or cheesy? Avoid the fine line risk and put a spin on this old classic by taking to two wheels to explore the 14km of golden sands that make up Mission Beach. Quench your thirst with a pit stop in one of the beachfront bars or rest under the shade of a palm tree and soak up the ocean views. You may even be fortunate enough to spot a roaming cassowary… wouldn't that be a cool story for the grandkids?
Paronella Park
Step into a real life fairy-tale at the magical ruins of Paronella Park, a former grandiose Spanish Castle set against a beautiful backdrop of tropical rainforest. Romantic ambience isn't hard to come by as José Paronella's remarkable story of determination comes alive. If you're feeling starry-eyed, explore on into the evening with The Darkness Falls Tour.
Cosy up in the castle's hidey-holes, marvel at the magnificent Mena Creek Falls and take a stroll down Lovers Lane. No really, every pathway in Paronella Park has a name and Lovers Lane leads straight to the Tunnel of Love.
Fitzroy Island
Calm crystal-clear waters and white coral beaches… needless to say, Fitzroy Island is a slice of paradise. Hike, snorkel, paddle-board, kayak, or drink cocktails by the ocean… it may be a small island, but there sure is a lot to do. And, if one day just isn't enough, stay overnight at Fitzroy Resort and enjoy two days of unspoilt island bliss.
Bungy Jump
Take your date to the next level and throw yourself off of Australia's one and only bungy tower at AJ Hackett. The adrenalin rush will get your heart pumping, break down barriers and increase camaraderie in no time. And, for a chance to get even closer to the object of your affection, share a ride on the Minjin Jungle Swing and swoop through the rainforest from 45m to 1m in 3.5 seconds. Now that's what you call speed dating.
Hike to Behana Gorge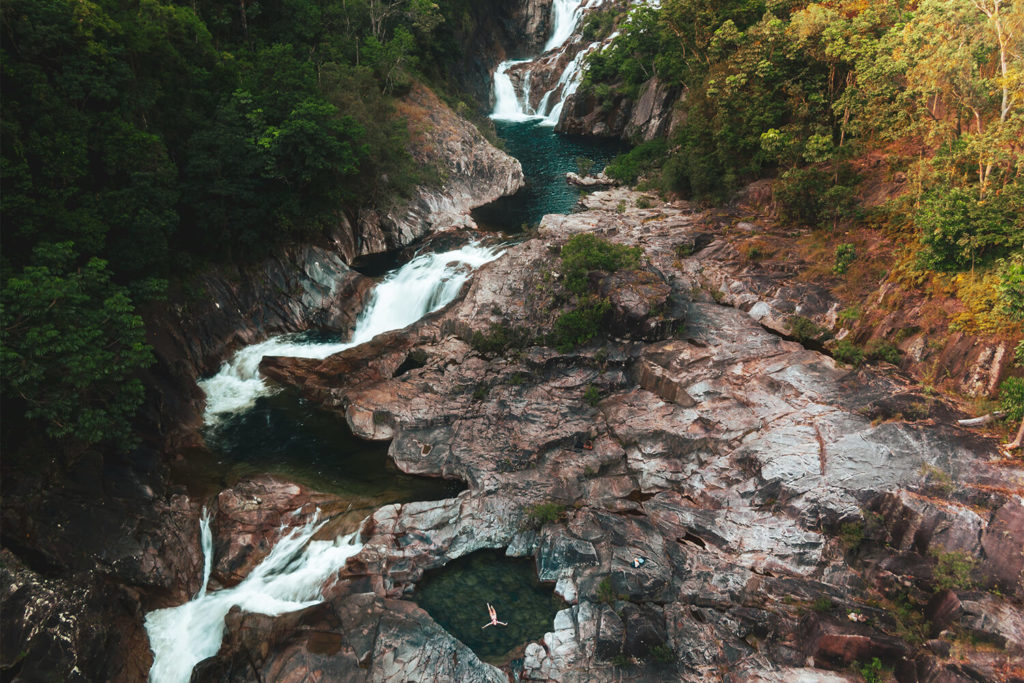 Lace up those runners and take your date outside with a hike to Behana Gorge. The 3.2km track will give you plenty of time to have a deep meaningful heart-to-heart before reaching the magnificent Clamshell Falls. Cool off with a dip in the refreshing waters before tucking into a poolside picnic that you've oh so thoughtfully prepared.