Considering exploring is in Cooktown's DNA, you'll want to spend a night or two in the capital of Cape York to discover what's on offer for yourself. This Cooktown accommodation guide will help you choose your perfect home away from home.
For a town who took its name from the explorer who ran aground here in June 1770, it's no surprise that history is as abundant as the fishing in Cape York's Cooktown. Whether you're here for boats, bait and big reels, passing through on your pilgrimage to the tip or wanting to turn back the pages of history through self-guided museum discovery, here's the ultimate Cooktown accommodation guide.
Lion's Den Hotel
Make your first stop on your trip to Cooktown the equally historic and iconic Lion's Den Hotel. From the moment you cross its threshold you'll see why every Cape York travel guide calls this pub a must-stop for visitors on their way to the top.
You'll be greeted not just with warm hospitality, but walls which are gaudily-lined with memorabilia and signatures from other travellers who've made the trip to the tip – some autographs date back 130 years! As you can expect from being one of the oldest continually operating hotels in Queensland, the accommodation is on the simple side – but you don't choose the Lion's Den for luxury. You're here for a good time (not necessarily a long time).
Choose between a range of camping options – powered, unpowered, safari tents and dongas and soak in the atmosphere of this famous hotel, which is found just outside Cooktown near Black Mountain (Kalkajaka).
Mungumby Lodge
Holidays in the tropical north are synonymous with solitude and scenery and Mungumby Lodge doesn't disappoint with its rainforest-clad mountain position, 30 minutes south of 'downtown' Cooktown. Check into the scenery and out of city stress, immersing yourself in the World Heritage-listed rainforest that's on Mungumby's doorstep. Rather than focusing on the small screen (no phone reception here folks), let nature entertain you – chase waterfalls, listen to birdsong and spot ancient plants.
Sleep even easier in your wooden, ensuite cabin, knowing that sustainability is at the forefront of this business, with environmentally friendly evaporation waste system, recycling processes and eco-friendly lighting all in place.
The Sovereign Resort Hotel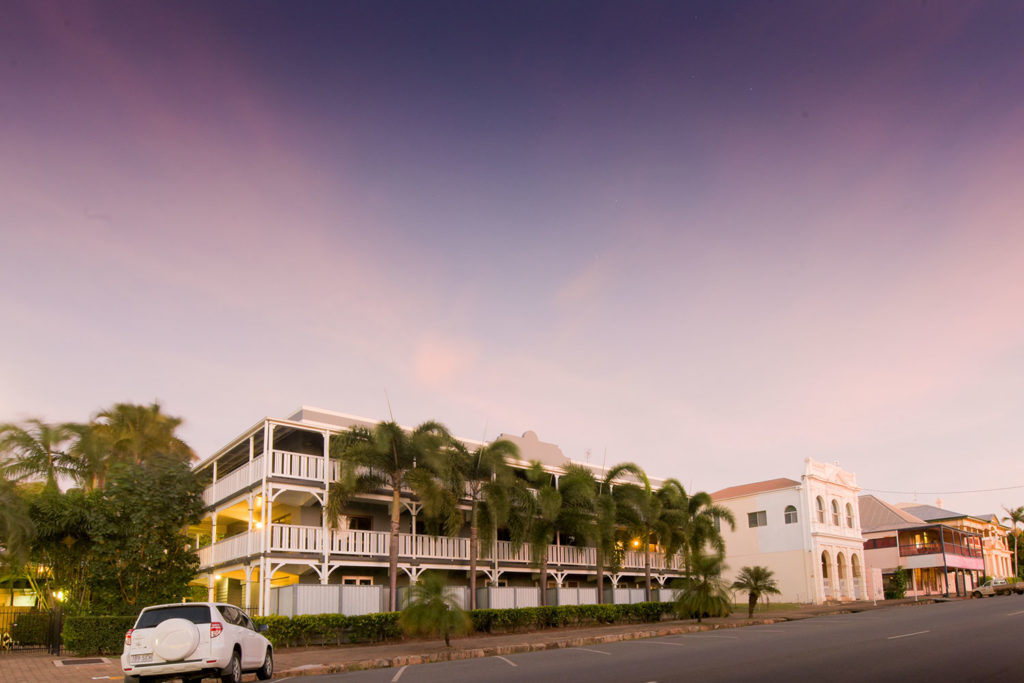 If you've come to Cooktown looking for creature comforts and style, wheel your luggage towards The Sovereign Resort Hotel. Choose from either their resort rooms or two-bedroom apartments, which are positioned around the tropical pool which forms the central heart of this hotel.
With two onsite dining options, Balcony Restaurant and Café Bar, The Sovereign Resort Hotel gives you very little reason to put the seatbelt back on before its time to leave. To chew with a view of the Endeavour River, pull up a seat at the Balcony Restaurant whose menu celebrates the very seafood caught just offshore.
River of Gold Motel
Few waterfront hotels can lay claim to being affordable, but the River of Gold in the heart of Cooktown proves you can have water view-bang for your buck. Spend your days exploring the rich history of Cooktown, before retiring to your air-conditioned room or the onsite tropical pool to truly beat the heat. You won't need to wander far for your evening meal, River of Gold's onsite restaurant, Annan's, is so popular with both locals and visitors that bookings are essential. With plenty of space for parking, you won't need to worry about where to park the rig, with boats, trailers, trucks and coaches all welcome to pull up here.
Endeavour Falls Tourist Park
Explore the Endeavour Falls and valley of the same name by basing your Cooktown adventure at the Endeavour Falls Tourist Park. The overnight accommodation comes in a few shapes and sizes, from fully self-contained air-conditioned ensuite-cabins to powered caravan and campsites for those that really want to connect with nature.
Find this holiday park 30km to the north-west of Cooktown, far enough away that you can be fully immersed in the Australian bush setting, but not so far away that you can't easily jump in the car to tick off these 10 things to do in Cooktown.
Milkwood Lodge
When you're looking for a holiday that's truly immersive in both nature and culture, Cooktown delivers when you check into Milkwood Lodge. With full run of the lodge (read: it's just you and your party guests staying here), everything is geared towards seclusion, so there's nothing standing between you and the serenity created by the tranquil rainforest canopy that envelopes the property.
You'll be staying just 15 minutes' walk to Mt Cook National Park, where Mount Cook rises 431m to overlook the town. Be sure to keep your eyes on the terra firma, the granites found in Mount Cook National Park are said to be 260 million years old.
Seaview Motel
Fronting onto the Endeavour River, if you're wanting a birds-eye view of Cooktown's most famous water course, check into the Seaview Motel, the only accommodation that actually sits on the waterfront. Everything about this motel is geared around river views and the shared motel facilities (swimming pool, BBQs and laundry), so all that's left to do is choose between which of the five room styles is best for your travelling party.
With ample parking, you can base your stay here and access the best of Cooktown's museums, cafes and restaurants, all a short walk away. The fishing-action is only a rod's reach away – with your choice of the Endeavour and Annan Rivers, perfect for reeling in trevally, queenies and the elusive bonefish (to name a few species found here) or the Great Barrier Reef for reef species.
Hillcrest Guesthouse
Stay in a historic Queenslander home, whose original bones date back to the 1880s, at Hillcrest Guest House. This freshly renovated guest house, 500m from the main street, has a number of rooms to choose from to suit the size of your travelling party. In true B&B form, your room rate includes a tropical breakfast with a selection of breads, cereals, fruits and Tablelands tea and coffee. For those already thinking of their next meal, you can order an antipasto plate to your room – the perfect addition for sundown in Cooktown.
Cooktown Orchid Travellers Park
Navigate yourself to Cooktown Orchid Travellers Park in the middle of historic Cooktown. Choose between camping, caravan sites or if you'd rather not bother with the set up or set down, the on-site luxury caravan. Good news for those travelling with their furry bundles of joy, Cooktown Orchid Travellers Park are pet-friendly too.
Cooktown Caravan Park
Park the campervan, drop the caravan steadies or pitch a tent in one of the grassy, shaded sites at the Cooktown Caravan Park and experience what warm, country hospitality is all about. Set on five acres of bushland at the base of Mount Cook, you'll have Cooktown's best attractions within walking distance – 1km to the centre of town to be precise. If you'd prefer to have more of a roof than a canvas top, Cooktown Caravan Park also has an open plan family cabin and four units to choose from.
Hill Top Farm
Stay on an organic farm 15 mins from Cooktown at Hill Top Farm. Depending on your accommodation style, choose between the converted shipping container, glamp in the safari tent or stay closer to nature and camp in an orchard. No matter which you choose, you'll enjoy uninterrupted views of the sacred hill, Gapul da Guthay (Connor's Knob) .
As a guest of Hill Top Farm, you'll have exclusive use of the farm's facilities and can pick your own organic produce. If you like to holiday consciously, you'll be happy to know you're treading lightly on the planet with your stay too. Everything onsite is designed with sustainability in mind including the solar hot water and electricity, environmentally-friendly laundry and cleaning products and closed-loop system for the property' organic waste.