For travel writer Narelle Bouveng, a road trip into the lush tropics of the Daintree is a magical journey back in time.
This article was produced in partnership with News Corp Australia.
Let me nail my colours to the mast right now and declare the road trip from Cairns to Cape Tribulation, as Australia's most beautiful drive. Hugging the coast, the Captain Cook Highway weaves through the underskirts of the Wet Tropics rainforest where it spills down from mist-covered mountain ranges to meet the luminous waters of the Coral Sea, home to the Great Barrier Reef.
I'm in a campervan with the windows down and the radio muted. The faint buzz of tractors working in neatly ordered cane fields mingles with the cacophonous soundtrack of insects and birds. The perfume of sugar muddles with the tropical humidity, taking me back to my childhood and the fond familiarity of Tropical North Queensland's musky scent.
"Spotted," I whisper, the road-trip game I play with my children embedded in my subconscious. If they were with me, they would be shouting it from the back seat on approach to the first farm gate just north of Mossman. Their prize would be a stop for ice-cream or to taste something unusual like the black sapote 'chocolate pudding' fruit.
While the downside of a travel writing career is solo adventures to places I know my kids would adore, the upside is that I'm blissfully unfettered as I sample my way from Port Douglas to Cape Tribulation along the Daintree self-guided food trail.
The trail offers 20 places to try locally grown or curated fare. Scomazzon's Farm Store is my first stop and I load up on succulent Shaylee Strawberries and a sneaky treat from Duke's Doughnuts. I'm visiting in winter, but come summer, the shelves groan with exotic seasonal fruit, including sweet mangosteens, sugar bananas and jackfruit.
Continuing northward, I add Hook-a-Barra at Wonga Beach to my family's bucket list. My 8-year-old daughter would revel in the opportunity to land a barramundi from fish farm's ponds, while my environmentally-conscious 20-year-old would be pleased with its focus on sustainability. It's a croc-free fishing option too.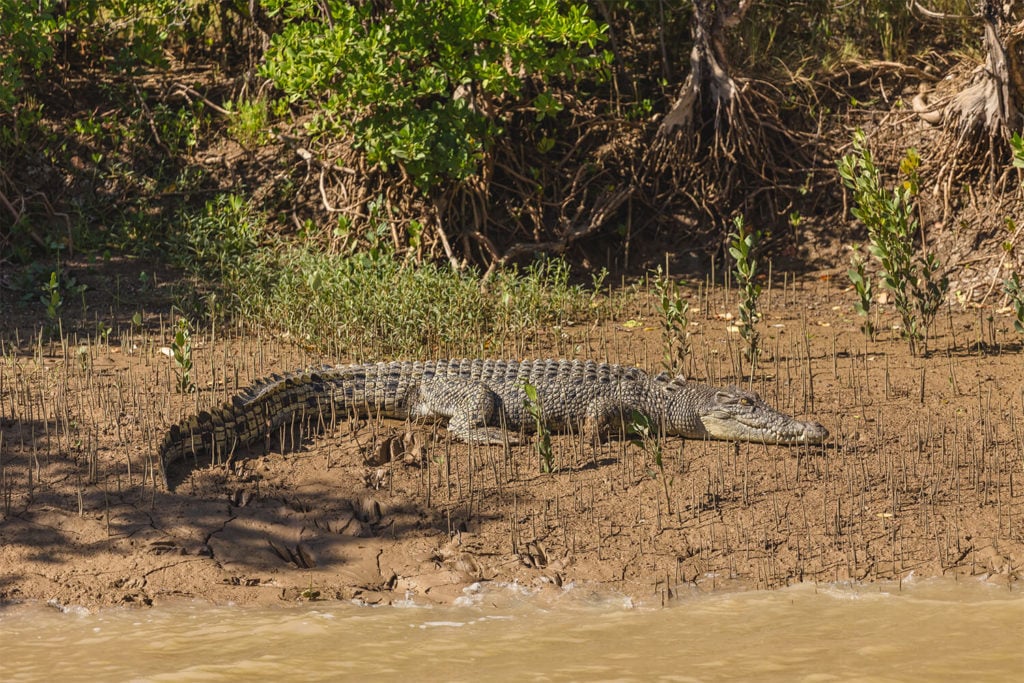 But any visit to the Daintree should include some croc appreciation, so when locals in Daintree Village mention a white-bearded bushman offering torch-light tours on the Daintree River, I'm in.
Dusk has filled the sky with spectacled flying foxes when I arrive for my date with Dan Irby; AKA the white-bearded bushman. It begins with him rubbing his hands together to declare, "It's a perfect night for crocs."
As we slip onto the darkening waters of the Daintree River, Dan's torch turns into a strobe, spotlighting insects, bats, frogs, reptiles and marsupials, all buzzing in night mode. The water is packed with crocs; their shining eyes like a million stars dotting the river. Dan shares the hallmarks of their apex predator prowess with pride, but all I can think about is how frightfully thin the sliver of tin is separating my behind from those mighty jaws that lock.
Mist envelops Cape Tribulation the next morning as I cross over on the Daintree River Ferry, intensifying its otherworldly feel. I acknowledge the traditional owners of this country, the Kuki Yalangi people. "Kulki" is a place of great cultural and spiritual significance and the road I am following is the original walking route of the Kuki Yalangi people.
The Marrdja Botanical Walk is found slightly north of Noah Creek, and via interpretive signage I'm transported across 400 million years of evolution. Looping 1200m, the self-guided walk trails through lush rainforest and past vital mangrove hatcheries. A summer visit would find the rainforest at its most luxuriant and the region's waterfalls in full flight, fed by summer rains.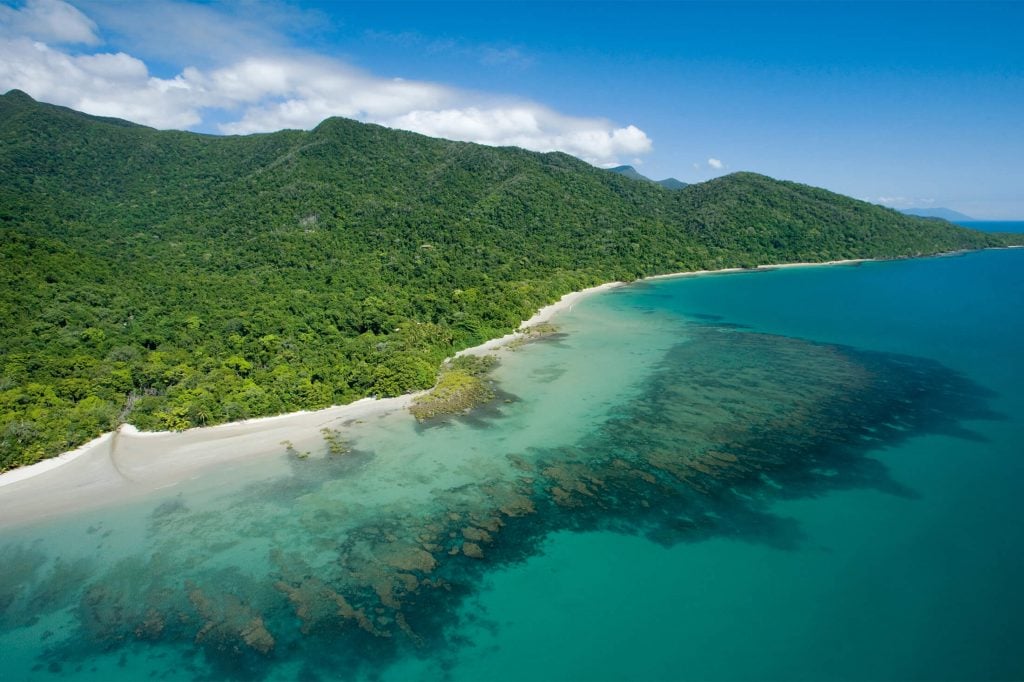 On reaching Cape Tribulation Beach, I marvel at the footprint-free expanse and imagine my youngest daughter here, racing off to scratch her initials in the sand, golden hair blazing behind her. I take a moment to breathe it all in. While international escapades may be off the agenda right now, the world's most biodiverse ecosystem is right here in Australia, in a place where two World Heritage Sites meet. I don't feel like I am missing out on anything at all.
From the Cape, I return to foraging the Daintree Food Trail. At Daintree Tea Company I discover a rare clearing in the thick forest, the plantation's orderly rows presenting a beautiful juxtaposition to the rambling rainforest. I discover tea is plucked, dried, crushed and ready to enjoy within 24 hours. No chemicals, no fertilisers, just pure rainwater, so it's no surprise to learn Daintree Tea is considered Australia's freshest.
Mist has descended deeper into the rainforest, shrouding its 50 shades of green in a glorious white coat. As I wait for it to lift, the rainforest trembles and out pops a southern cassowary. Elated at this unexpected encounter I fumble to film it on my phone, and three chicks scramble from the undergrowth. Breathlessly, I patch my shaky footage home with the message "I pinky promise you're coming with me next time, x Mum". A barrage of heart eyes, prayer signs and several thumbs up emojis return immediately.