Let's be real – most of us don't entertain the thought of exercising while on holidays, let alone go through the effort of packing our runners and active wear! But if you're one of those virtuous travellers who likes to fit in a workout here and there while sightseeing (we'll be by the pool bar if you're looking for us), then we've compiled a list of our top 5 tracks to get those legs a-running.
Four Mile Beach, Port Douglas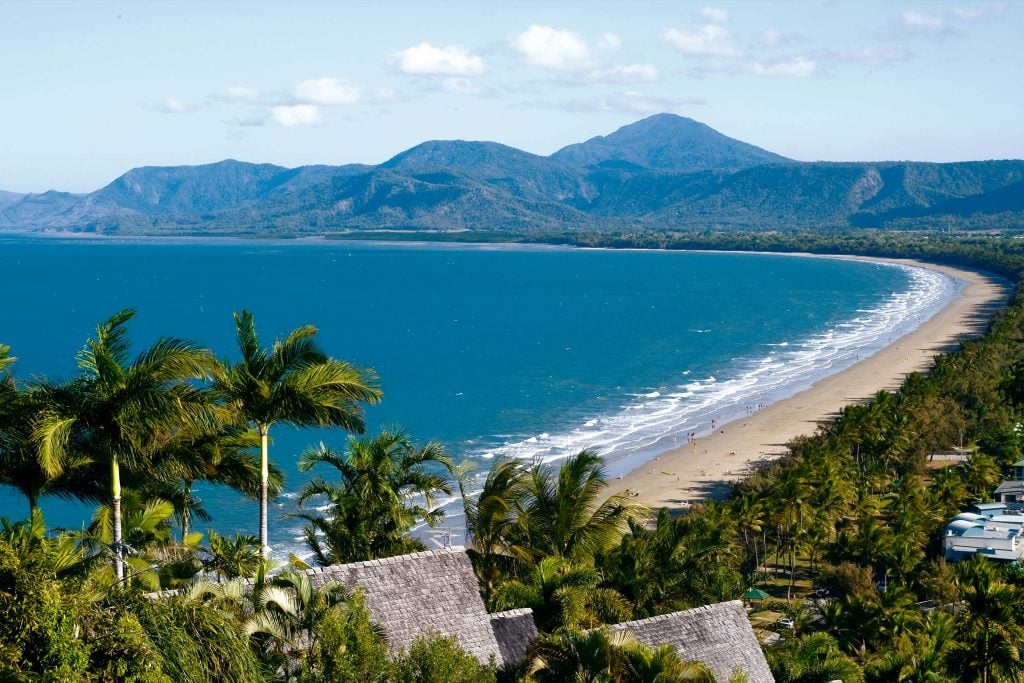 Starting point for the iconic Great Barrier Reef Marathon, the wide, long stretch of compact sand means it's a popular running destination year-round, especially in the early morning and evening when it's cooler. There are a number of access tracks leading to the beach at varying points but starting at one end and making your way down towards the other makes the most sense. The 70m high Island Point lookout near the surf club end means you can work an incline in if you so desire.
The Bump Track, Mowbray National Park
About a 20-minute drive from the heart of Port Douglas this 6km track, connecting the goldfields to the coast back in the 1800s, was a supply line for the early settlers and miners, and is now a favourite with runners who want to feel the burn. A warning: it is steep and while it's well worth it, not only for the spectacular view at the end of the initial 1.5km incline but for the hill running that will increase your stamina and speed, it is tough going. This track is recommended for experienced runners. If you're game though, by all means give it a crack, just come prepared with lots of water, hat and sunscreen and plan your course ahead of time. Or walk it the first time so you know what you're in for.
The Red and Blue Arrow Circuits, Cairns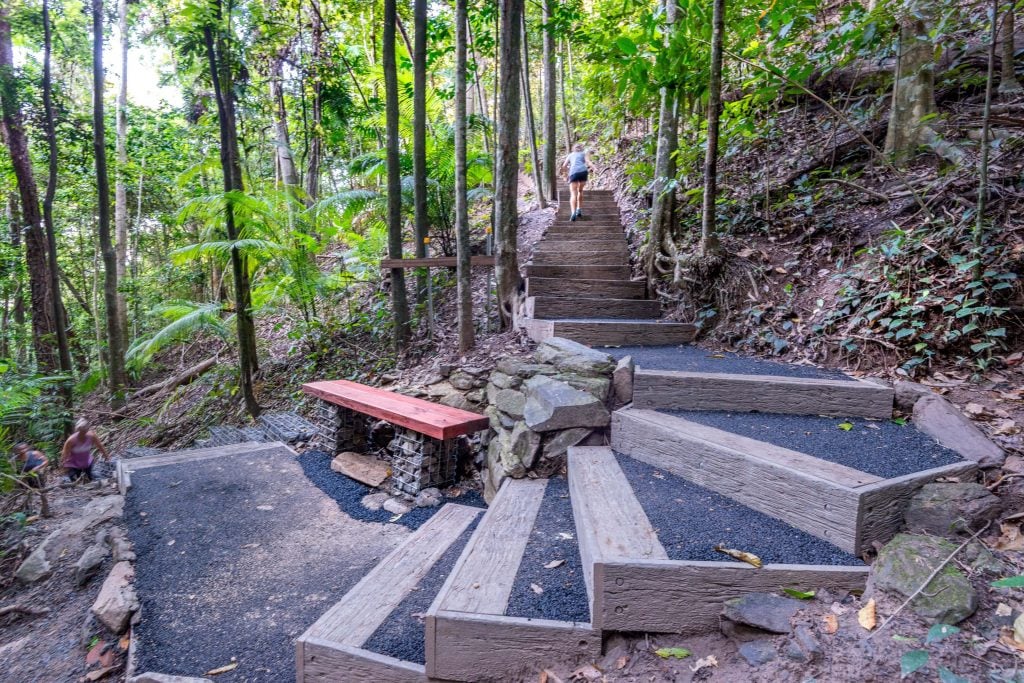 Located behind the Cairns Botanic Gardens in Edge Hill, the Red Arrow Circuit is another hilly one but a more sound choice if you're only beginning to work hills into your workout. Don't get us wrong, this is still challenging, but a paved path the whole way means it's a little less rugged than the Bump Track. But just like the Bump Track, you'll be rewarded with stunning views. About halfway along the 1.3km Red Arrow Circuit you'll see it fork into the Blue Arrow Circuit, which is longer at 5.4km, and steeper too. It's likely you'll see lots of shrub turkeys along the way, and if you're lucky some pedemelons and echidnas too. Another drawcard to this circuit: proximity to the trendy suburb of Edge Hill. Whether it's a pre-breaky workout, or a post-work run, you'll have a pick of the cafes and restaurants in the neighbourhood serving top nosh.
Mission Beach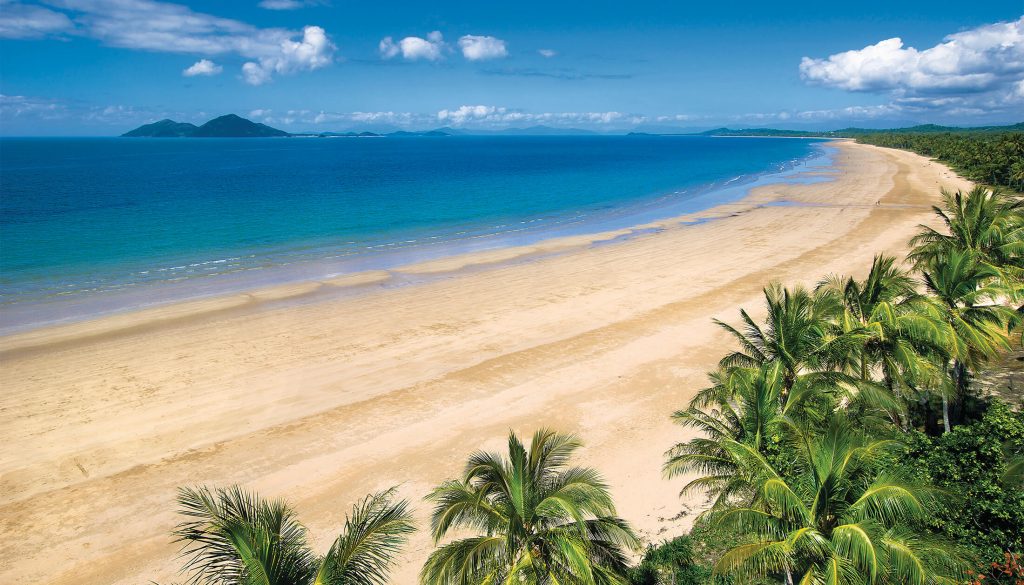 About halfway between Cairns and Townsville is a magnificent 14km stretch of wide, golden sand. A perfect destination for solid beach training, there's no doubt it's a quieter spot for a run with less to distract you from the activity at hand. So select your podcasts or your favourite running playlist and go for it. Sunscreen and water a must.
Cairns Esplanade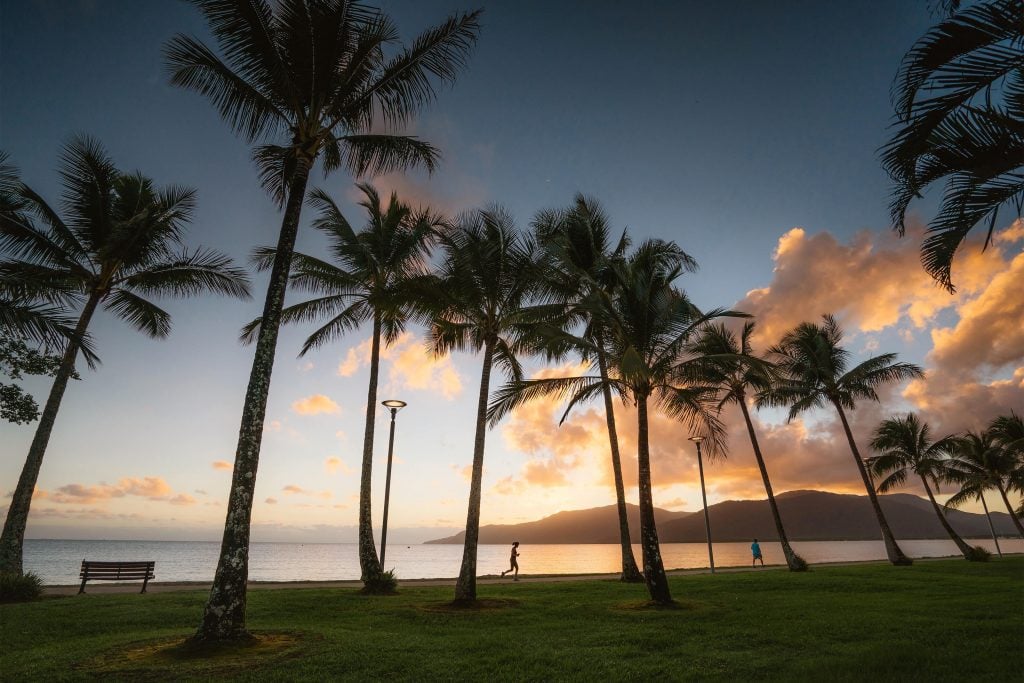 Boredom is one of the well-known challenges of running so pounding the pavement in the big smoke could be a fun way to combat this. And who doesn't love a spot of people watching? The Esplanade is a 2.5km stretch of foreshore. Featuring a large, saltwater lagoon, grassy spots for picnics, plus numerous bars, cafes and restaurants, you'll have plenty to keep you visually occupied. As with any run, you can make it as long or as short as you like. If you start at the lagoon, one option is to head west towards the Cairns Convention Centre, along Wharf Street and past the casino. From there you can create a loop through the city. Alternatively head north right along the Esplanade until you reach Lily Street, or if you're aiming to get some k's under your belt, keep going until you reach the airport for a 6.5km run one-way.