Two Days on the Tablelands
Time

48 hours

Distance

385 kms (Round Trip)

How

By Car (Hire or BYO)

Close to

Cairns
48 hours was never going to be enough time to cover the entire Atherton Tablelands. But in two days, you can certainly refresh, revive and take in the sights and sounds of some of the prettiest country places you will ever see.
So come with me, on a whistle stop tour of the scenic southern Tablelands. I promise rainforest pools and crater lakes, country pubs, historic villages and secluded tree houses. And food, plenty of food! Or, if you've got more than a few days check out 5 Days on the Atherton Tablelands.
9AM
Every good adventure begins with a swim right? Well it does in Tropical North Queensland where there's more rainforest pools than you can poke a stick at! The Babinda Boulders has something for everyone. From its walking tracks and lookouts, to its cool, green waters lined with large granite boulders, thick, lush rainforest and the haunting legend of an ancient and tragic Aboriginal love story. What a way to start the day.
11AM
That's not only the official hashtag of this delightful ruin in the rainforest but it's an apt way to describe the next stop in this 48 hours of fun. Paronella Park is a photographer's delight, offering postcard scenes left, right and centre. From the mossy ruins to the towering trees, to the waterfall and grand staircase, you won't be disappointed.
1PM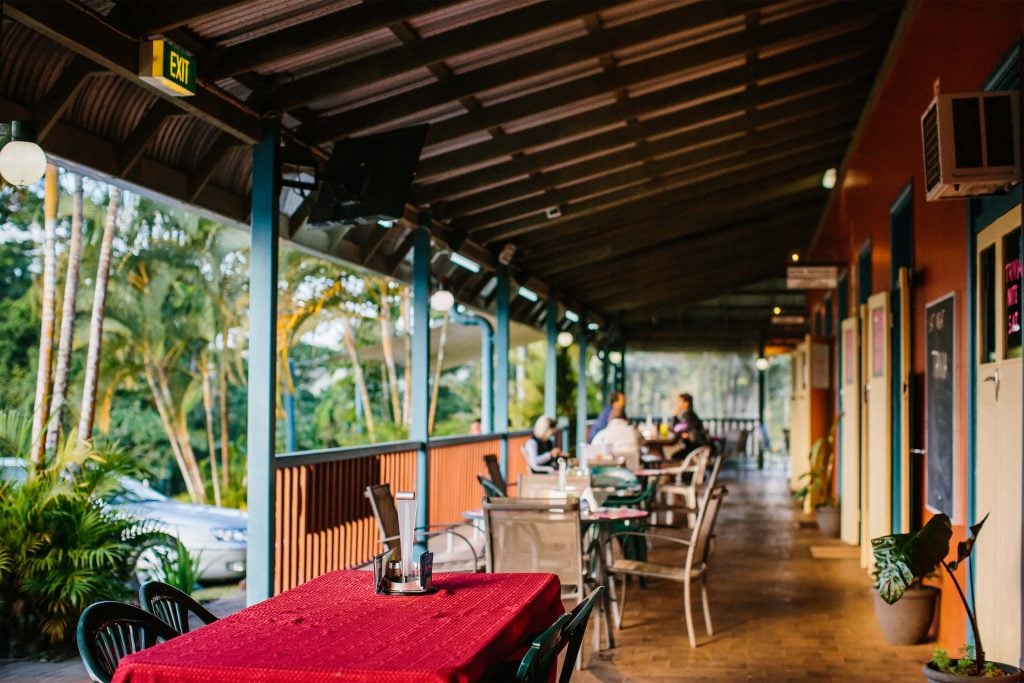 Nothing beats the charm of a local pub set amongst the cane fields. The Mena Creek Hotel was built in 1929 and since then has been serving up delicious, good sized meals to locals and tourists. Match that with good old Queensland customer service and you're on to a winner!
2PM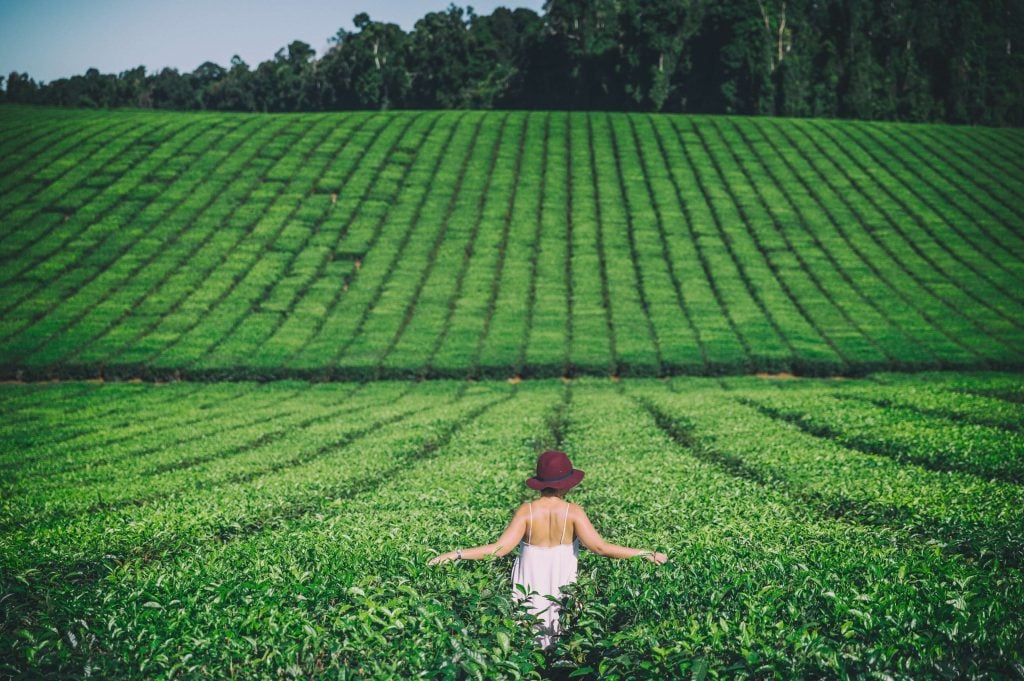 If you suffer from car sickness and want to avoid the trials and tribulations of a winding range road, the Palmerston Highway offers the very best trek to the Tablelands for you. This scenic drive takes you from the coastal lowlands to the Atherton Tablelands, with far less twists and turns than the Gillies or Kuranda Range roads. We recommend stopping at the Nucifora Tea Plantation at the top of the Palmerston for a quick photo op!
3PM
Get me a coffee stat! It's that time of day when I need a caffeine fix and fast. The Mungalli Creek Dairy 'Out of the Whey' teahouse is the perfect place to recharge those batteries while enjoying a stunning view over the Tablelands. The coffee is good and there's a wide range of cakes and sweet treats to go with it. They also do lunch and free cheese and yoghurt tastings. The teahouse is open 10am – 4pm.
5PM
Spend the night in a treehouse, don't mind if I do. Rose Gums Wilderness Retreat is the perfect place to pull up stumps for the day. This privately owned and operated retreat has nine handcrafted pole and timber treehouses, each with views over the rainforest and their own private setting. Sit on the deck, light a fire or soak in the spa bath. There's an on-site restaurant which serves amazing meals, so chill out and let someone else do the cooking and cleaning.
8.30AM
It's hard not to get a good night's sleep at Rose Gums, everything about this place leads to rest and relaxation. That means you wake up early, refreshed and ready to go. The treehouses have a full kitchen and come with a delicious, complimentary breakfast hamper, featuring milk, yoghurt, bacon, eggs and coffee. Once we've recharged, it's time to head over and feed the birds at the owner's residence. What a delightful way to start the day.
10AM
This has got to be one of my favourite things to do on the Tablelands: Devonshire Tea at Lake Barrine Tea House. A pot of tea with local leaves. Homemade scones (secret recipe going back four generations) with freshly whipped cream and delicious, raspberry plum jam. Did I mention the outdoor deck with views over the lake, its surrounding rainforest and resident population of ducks? Seriously, stop and soak up the serenity.
12PM
The Atherton Tablelands has lots of two things: beautiful scenery and country charm. One way to really see what life would have been like here in the early pioneering days, is to visit Historic Village at Herberton. Set on 16 acres, this attraction has more than 50 restored period buildings and recreates a historic tin mining town, complete with shops, a school, garage and more. There's a café / restaurant on site, giving you plenty of time to explore everything this place has to offer, without getting hungry.
3PM
I am nothing but predictable. At 3pm I'm looking for a caffeine and chocolate fix, both of which can be found at Gallo Dairyland on the Malanda-Atherton Road. Gallo makes their own delicious and amazing selection of chocolates on site. If you want it, they've got it. I'm talking everything from freckles for the kids, to hazelnut chocolate, coconut chocolate rough and chilli chocolates. The best part? You don't have to stop at one. They sell by the weight, so pick what you want and indulge away. There's much more to this place than chocolate, there's cheese, ice-cream, tea and coffee, a restaurant, kids farm and milking demonstrations.
5PM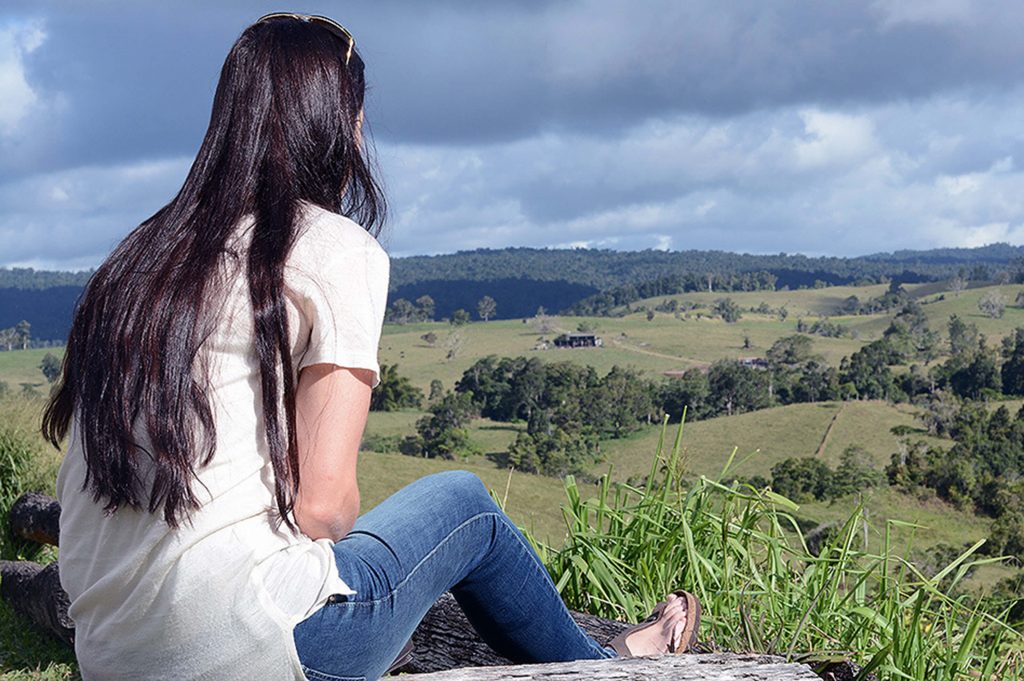 It's been a refreshing, rewarding and delicious 48 hours exploring the Atherton Tablelands and I've only visited a very small fraction of it. For me, it's time to head home and I'm taking the Gillies Range back to Cairns. It might be a windy way home, but has some gorgeous views over the hinterland and cane fields below. There's lots more to see and do the Atherton Tablelands, but I'm saving that for another adventure.
How about hot air ballooning on the Atherton Tablelands? Sleep-in spoiler alert: you'll need to get up very early for this. But it's worth it!