Bill Bryson, one of America's best-loved travel authors, once described the people of northern Queensland "as mad as cut snakes". Perhaps it's because of the tropical heat. Or maybe it's the interminable distance to the nearest capital (Brisbane is almost 1600 km south). Or it could be the dangerous wildlife that cohabits the region.Whatever it is, Cairns has given birth to adrenaline-filled, seat-of-your-pants activities bound to test anyone's levels of adventure. So, where to start in Australia's adventure capital? Here are our top 10 things to do in Cairns:
1. Jump with the masters at AJ Hackett
AJ Hackett captured the world's (and the French police's) attention when he bungy jumped 110 metres off the Eiffel Tower in 1987. Almost 30 years later, this modern-day Tarzan has grown his bungy business to add a Minjin Swing to the famous Bungy Jump at the Cairns site.
The tranquil natural surrounds of the rainforest and waterfalls make for a spectacular dive for those brave enough to keep their eyes open! And at 50 metres high, you get a bird's-eye view of the northern beaches and out to the Great Barrier Reef before taking the plunge!
2. Skydive the Reef
An adrenaline junkie's dream, Skydive Cairns offers the highest tandem jump in Australia. Choose a dive from between 9,000-15,000 feet, with freefalls ranging from 25 seconds to a full minute of a heart-racing fall at up to 220 kilometres per hour.
Divers are rewarded for their bravery with spectacular views of the east coast of Australia and a dive photo to put next to the school trophies.
3. Raging Thunder White Water Rafting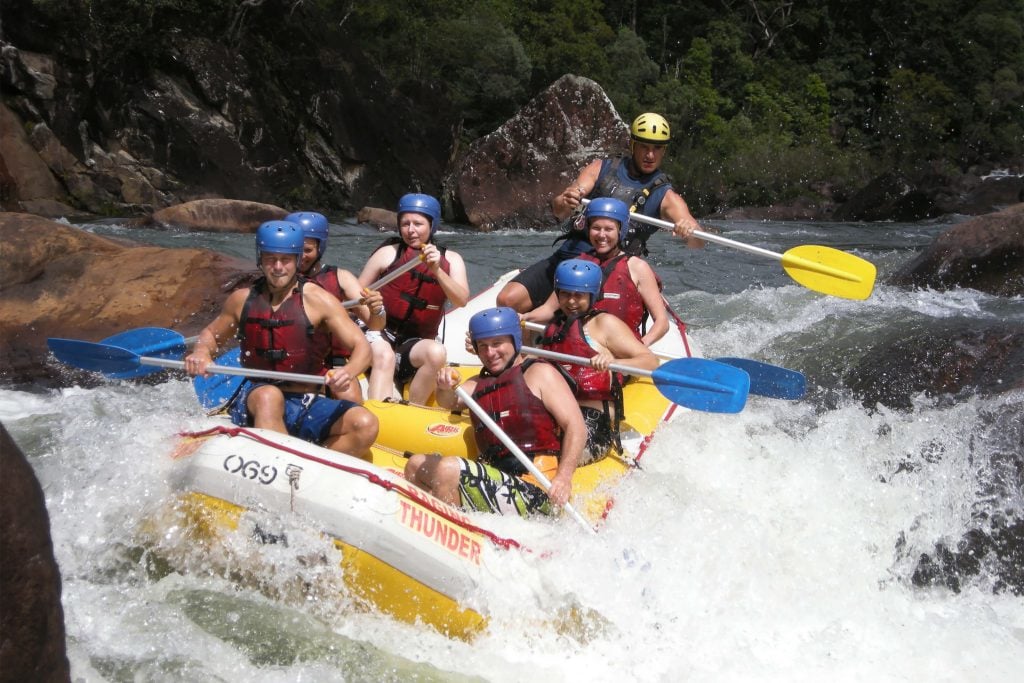 Tackle Grade Two and Three rapids including the infamous Rooster Tail, all inside the stunning Barron Gorge National Park. The two-hour rafting experience with Raging Thunder Adventures is suitable for anyone over the age of 13 and no rafting experience is required.
If that's too vanilla, then amp up the action with Xtreme Tully River White Water Rafting, where the fury of the rapids are rated as a Grade Three and Four. Better than that, with fewer adventurers around, the wait times are shorter meaning there's more time for extra activities, like cliff jumping and rapid swimming. Expect to get wet. Very wet.
4. Swim with Minke Whales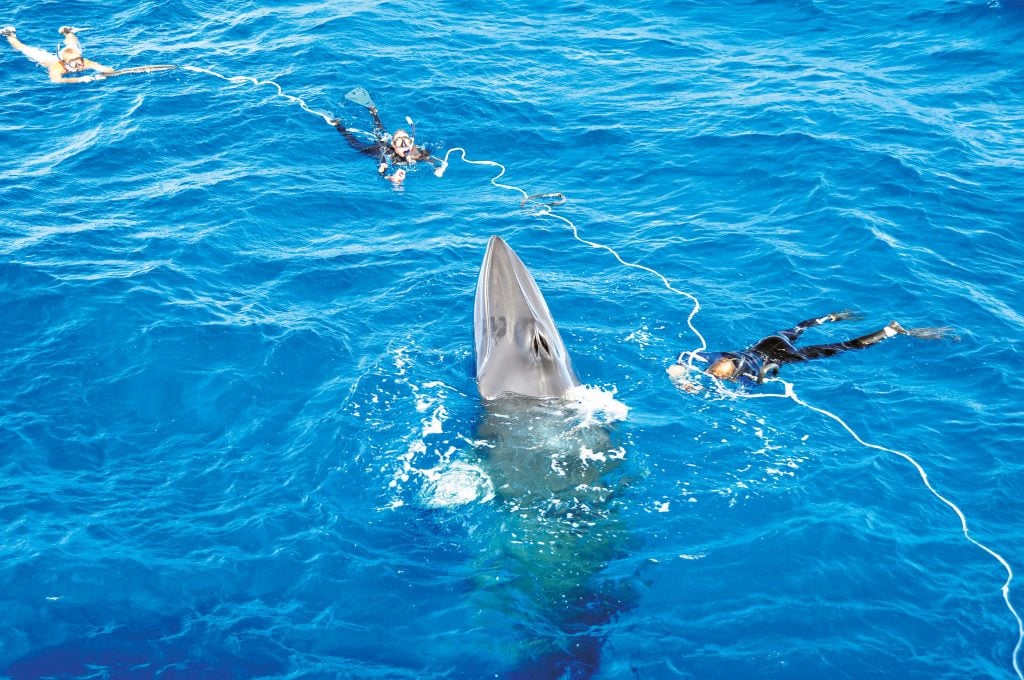 For just six weeks a year, the Ribbon Reefs off Tropical North Queensland turn into a playground for dwarf minke whales, a curious species of whale first identified in the late 1980s. Inquisitive by nature, these seven-metre long cetaceans are very playful. They decide how much they want to interact with tourists, and often come within metres of swimmers to create a spectacular wildlife encounter.
Sure, this is not high-octane adrenaline, but this experience is 100% natural and up there with Gorillas in the Mist.
5. Bump Track by night
As if hurtling down a rocky rainforest path on two wheels wasn't hairy enough, now you can do it in the dark. North Queensland's Bump Track Adventure Tour with Bike n Hike – hailed as one of the 10 best mountain bike rides in Australia – journeys from the Julatten Range down through magnificent ancient rainforests and ghost gums all under the light of the moon and 100 Lumen LED torches attached to helmets.
There's even a wee bit of time at the beginning devoted to animal spotting.
6. Blazing Saddles Tours
Whether a horse or a quad bike is your steed of choice, Blazing Saddles takes guests on an adventure through rainforest pockets, mangrove wetlands and native bushland.
Located only 10 minutes from Cairns on a working sugar cane farm, Blazing Saddles has a huge stable of horses and a steed to suit just about any rider four years and up. This is one activity that is perfect to do in the rain, too.
7. Zip line over Goliath, a four-metre live croc
Perched on top of the Cairns Reef Hotel Casino is an all-weather wildlife exhibit enclosed in a 20-metre high glass dome. The replicated rainforest environment of Cairns ZOOM and Wildlife Dome is home to over 400 animals including parrots, cockatoos, lorikeets, rosellas and rainforest wallabies that all roam freely inside the dome.
But the adrenaline factor here is the high ropes course and the opportunity to eyeball Goliath, a giant four-metre saltwater crocodile, as you zip line right over him.
8. Swing through the jungle with Jungle Surfing Canopy Tours
Get a bird's eye view of the Daintree and the Great Barrier Reef at Cape Tribulation by sailing through the World-Heritage listed rainforest on a zip line, Tarzan style, stopping at five eco-friendly treetop platforms along the way.
Hang upside down 12 metres above the ground or keep it vertical. This is the world's only flying fox where you can fly hands-free. Jungle Surfing Canopy Tours cater for adventurers from the age of three and above.
9. Croc-spotting with Bruce Belcher's Daintree River Cruises
After 23 years and 40,000 croc-spotting trips, there's a reason Bruce Belcher brags a 98% success rate in spotting crocodiles in the wild! A man who grew up with the indigenous people of Mornington Island in the Gulf of Carpentaria, Bruce keeps passengers entertained with tales he's learned about this powerfully deadly creature.
You'll get surprisingly close to these big reptiles and also get the chance to see the odd feral pig in your travels as well. The one-hour cruises (extended to 90 minutes at sunset when cocktails and canapés are included) also includes spotting for tree snakes, pythons and rare Daintree birds.
10. Live aboard the Spirit of Freedom
A three-day live aboard dive trip on the Spirit Of Freedom is like watching a Doctor Zeus picture book come to life. Nowhere on the planet are there such curious creatures at your fingertips than the bombie sites around the Ribbon Reefs.
Here the waters are a flurry of fish with fluffy antennas, incredibly colourful soft corals growing next to surly-mouthed stone fish and giant clams donning  painted purple lips. The Spirit of Freedom is one of a handful of boats that take divers into the wild north of the Great Barrier Reef.
Departing every Monday from Cairns, the dive cruise travels along the rarely visited Ribbon Reefs, finishing 240km to the north at the world famous Cod Hole allowing visitors up to 11 diving encounters.
Not enough for you? Here are some more heart-pumping things to do -
Cape York Motorcycle Adventures visits the best off-road trails in National Parks and private properties, as well as secluded swimming holes and secret fishing spots. Take a one-day trek or go on an eight-day adventure.
For an outdoor adventure that won't break the bank, hire some kayaks for a relaxing paddle down the crystal clear waters of Babinda Creek, 55km south of Cairns.
Zip through old rainforest logging tracks in the Daintree on a Jungle Rumble quad bike adventure with Daintree Station.
Swap your dinghy for a 68-foot yacht, helicopter transfers and a personal chef. Far North Sports Fishing specialise in high-end bespoke fishing adventures on board a multi-million dollar, three-level yacht Blue Martini.